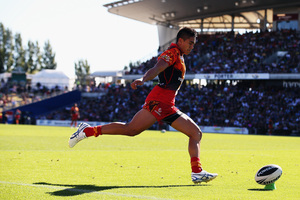 Daryl Halligan is confident Shaun Johnson will find his feet as an NRL goalkicker but regrets he wasn't used last year.
Johnson's kicking came under the spotlight in the narrow loss to the Roosters at Eden Park. He looked nervous when lining up his three attempts and badly miskicked the pressure shot in the 76th minute, almost sending it sideways.
Halligan is the Warriors kicking consultant and recommended Johnson to Matt Elliott as the club's most capable kicker in November - and nothing has changed that opinion.
"I am more than confident in Shaun," Halligan told the Herald on Sunday. "He is a natural and will step up throughout the year. Next year, he will be one of the recognised goalkickers in the competition.
"It only takes one kick to turn things around," added Halligan. "If he had kicked it [last week] - and I accept he didn't - the feeling and confidence would have carried him for the rest of the year. Now he just has to work hard and get in that position again, nail the next one and then move forward."
Halligan knows Johnson is short of match experience, saying some time with the kicking tee late last year may have been beneficial.
"I have wondered whether we should have used him last year," says Halligan. "When the Warriors were out of contention [for the top eight], I should have tried to get Shaun kicking goals in games. Hindsight is wonderful but I was a little remiss that we didn't give him that opportunity to kick earlier, as he would be much better off for it now."
Halligan's idea makes sense in theory but, given their desperate situation late last year, it would have been a big call to toss the ball to a rookie kicker, with James Maloney still at the club.
Meanwhile, though he had never kicked an NRL goal before round one this year, Johnson disputes the idea he is a novice. He was a regular kicker for the Junior Warriors and has had the responsibility through his career.
"I've kicked my whole life," says Johnson. "I've grown up goalkicking for every team I have played in. The only two years I haven't kicked were the last two. That's why I find it funny when people say 'he's not a natural kicker'. They don't know what I've done my whole life."
However, he admits getting back into the groove has been tricky.
"It's quite amazing," says Johnson. "You don't kick for a while and it feels a bit funny when you go back and do it. It's just about kicking your way through that and getting that rhythm back. There is a bit of pressure - especially when you kick like I did [last weekend] - so [today] will be interesting."
Goalkicking is a horrible art. There are no points for effort - just hit or miss, hero or zero, black or white.
"You have to live success or failure with every kick," says Halligan. "There is no gray area. But it is not that hard. You might have done 120 kicks during the week to prepare for five in a game. The hard part is adapting to game day, being composed, relaxed, mentally strong and seeing yourself in the moment."
Former All Black Matthew Cooper says it took him years to master the art. He had kicked "since primary school" alongside brother Greg and was an established kicker at provincial level from 1985. But it wasn't until 1992 on the All Blacks tour of South Africa that everything clicked.
"We were in Bloemfontein and I went out for an extended practice session," says Cooper. "It was from that day that things seemed to click and I understood about the importance of technique; not just striking the ball, but the post-kick connection, the follow-through, your arms ... everything."
Cooper explains that the crucial element for any kicker are the 'gold' kicks, a term he uses to describe attempts from 15 metres in from touch and closer.
"When you are on the sideline, there is less pressure usually," says Cooper. "There is less expectation they will all go over. But the ones closer in have to become your bread and butter; you have to nail those. They are the nervous ones though; you see a lot of kickers just thinking about the end result - all they want to do is get it over and they forget about the process."
It is often forgotten but Halligan, regarded as one of the NRL's greatest kickers, had his own nightmare experience in 1991. He missed three relatively easy shots in the major semifinal that would have sent North Sydney into their first grand final in seven decades (Penrith won 16-14).
"I'm still not over it," says Halligan. "I've just been blessed to have other experiences and the chance to be seen in a different light as a kicker."
Halligan feels goalkicking is harder than in his day because of the number of tries scored close to the sideline.
"Everyone is bombing to the corners and most grubber kicks are aimed between the centre and the winger," says Halligan.
"Also, most attacks are geared down the middle, sucking defenders in and scoring out wide."
Almost all the Warriors' most successful seasons have coincided with a specialist sharpshooter. In 2010 and 2011, they had Maloney. In 2007 and 2008, it was Michael Witt. Ivan Cleary set records in 2001 and 2002. Even in the inaugural season, when the club finished a respectable 10th of 20, Greg Alexander was piloting the ball between the posts.
Johnson sees Halligan once a week but also intends to get in touch with a kicking mentor from his Toyota Cup days for some advice.
"I might give him a call up to put me through the basics again," says Johnson. "It's not that I'm kicking badly - I had one bad kick at a very important time but every goalkicker has gone through that, I hear - so I am just glad I have gone through that nice and early. It's a tough job but one that I like doing."
Johnson will need to be on target today if the Warriors hope to score a vital win. They tend to ship points on their travels, so converted tries will be crucial at Sharks Stadium.
Warriors wing Glen Fisiiahi won't take the field against Cronulla today, after the passing of his sister last week following an illness. Fisiiahi didn't travel with the team as they departed for Sydney yesterday, instead staying home with his family. The 22-year-old has been one of the form players for the Warriors early this season, impressing with his speed and aerial ability. The versatile Ben Henry looms as the most likely replacement, with Manu Vatuvei still unavailable through injury.