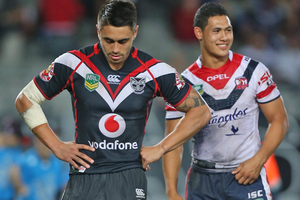 Is the pressure of goal kicking too much for Shaun Johnson? Justis Kamu looks at the halfback's kicking woes and the other key issues in the NRL from the latest round.
1. Johnson comes up short in the clutch
Shaun Johnson's conversion attempt in the 76th minute to tie the game at 16-all against the Sydney Roosters underlined the importance of having a tested goal kicker in the NRL. His dreadful effort skewed wide right and headed in the direction of the corner post rather than the uprights.The young halfback was kicking goals in only his second game of his first grade career after being given the goalkicking duties during his time in the Holden Cup (formerly Toyota Cup). However as was seen on Saturday night he is unaccustomed to the increased mental pressure that comes with kicking penalties and conversions that can decide the outcome of NRL matches.
Unlike days gone by in the game when adding the extras was just a bonus for teams, in this era coaches are expectant of their kicker to secure six points when stepping up to convert.
With Johnson's goalkicking under the guidance of kicking maestro Daryl Halligan in 2013 he will need to develop quickly under his instruction if this part of his game is to become an advantage for the side. If this development doesn't come to fruition, Warriors fans are in for more dire attempts this season.
2. Player draft proposed for doping crisis
A player draft has been proposed by the NRL as one of their contingency plans to assist clubs who are under threat from the doping investigation. 10 players from each NRL team will be put forward into a player pool allowing for affected clubs to take their pick on players ranked 16-25 from other sides. The Cronulla Sharks are a club who may fall into this category with as many as 14 players said to be facing suspension in the investigation by the Australian Sports Anti-Doping Authority. The draft system would give them and any other club who may lose players the opportunity to rearm their playing ranks.
Whilst it may be disappointing for clubs and players to see key squad members leave if the concept is instigated. The opportunity that it offers for fringe NRL players may be a good thing for those that aren't getting time on the field. Also the standard of play wouldn't dramatically drop if players from rival teams are acquired. They too are elite athletes who would understand the expectations of the NRL.
The competition is the best in the world and its strength is in its competitiveness between the top teams and those at the bottom. That standard would decline if weakened sides are not able to seek assistance from other clubs.
3. Three teams still searching for maiden win
Three teams have yet to register a win in the NRL after two rounds, here's a quick rundown of their season so far:
NZ Warriors - 14th
Form: Loss to Parramatta Eels in round one and Sydney Roosters in round two.
Need to improve: Defence outwide. Last weekend against the Roosters they were defensively soft outwide in all three tries. Konrad Hurrell and Glen Fisiiahi failed to number-up for Anthony Minichello's try. After the halftime break Dane Nielson fell off the tackle of tryscorer Mitch Aubusson and minutes later Bill Tupou misread SKD's run as he skipped past him to score.
Standout player: Jacob Lillyman. Against the Eels Lillyman played 39 minutes managed to dot down for a try, run for 110m and made 23 tackles. He saw more playing time (50 mins) against the Roosters and ran for 123m and completed 31 tackles.
First 'w' this weekend?
The Sharks are an aggressive side whose forward pack have transformed into a super unit with Luke Lewis and Chris Heighington. The Warriors meet a side that is facing plenty of heat off the field but making life difficult for opponents on it.
St George Illawarra Dragons - 15th
Form: Lost to Melbourne Storm in round one and Brisbane Broncos in round two.
Need to improve: Attack. Their attack hasn't had much spark with Nathan Fien out of position at halfback and out of touch with his outsides. Fien should be playing at hooker where his playmaking skills would be better utilised.
Standout player: Trent Merrin. Although Trent Merrin is on the bench behind Dan Hunt and former junior Warrior Leeson Ah Mau, he's certainly having the desired effect of making an impact off the interchange. He had 22 hit-ups, 160 running metres, one tackle break and 30 tackles on Friday night.
First win this weekend?
The Dragons face the Canberra Raiders at Canberra Stadium. They will be sure to capitalise on their possession this week after frustratingly stuffing up on numerous occasions against the Broncos.
Canberra Raiders - 16th
Form: Loss to Penrith Panthers in round one and Gold Titans in round two.
Need to improve: Go-forward. The Green Machine needs the forward pack to make more metres if they are to have a chance of winning games this season. After two rounds Tom Learoyd Lars has been the only forward to cross 100m.
Standout player: Shaun Fensom. The Raiders lock is hugely underrated and if he was in a more fancied side would be in the mix for representative honours. He has stood out in a forwards unit that has been second-best on consecutive weekends.
First 'w' this weekend?
The Dragons visit Canberra Stadium this weekend and traditionally it is not a happy hunting ground for many teams in the competition. Even with this jinx hanging over their opponents; without many metres being created by the forwards and lack of star power in the backline the Raiders will come out with an 'L' against the Red V.
4. Raiders will struggle without star fullback
Fair play to the Canberra Raiders for giving Josh Dugan the sack after the young fullback repeatedly broke club's code of conduct. The Raiders had given him too many chances to change his off-field behaviour with the now infamous photograph of Dugan drinking while injured the last straw.
His lack of respect for club rules was hurting the organisation, teammates, coaches and fans who felt disrespected at his behaviour after their opening weekend defeat. The club did the right thing in getting rid of a player with a poor attitude that could potentially rub-off on other players.
However Dugan's sacking will affect the club short-term. It's likely that without his presence in the side they will need a couple of weeks to readjust without his firepower from the backfield. If Terry Campese returns and can stay healthy their chances may improve however until he does get back on the field the club a going to struggle to win games without an X-Factor player in their lineup.
Prior to last season Dugan was regarded as the competition's best young fullback - Ben Barba now wears that crown. Whichever side Dugan ends up with he will make them a better side from day one. It will be off the field though where his future team will have to keep close tabs on their half a million dollar plus investment.
5. Your comments
From @ajvincent:
"Why no mention of Thomas Leuluai to fill the hooking position? He's played a bit there in the Super League. And where's Alehana Mara? I think the #1 hooker should be Godinet, in the absence of Friend. He's creative, quick off the mark, and seems to push the pack around quite nicely. Put some faith in him and see what you get back. Taylor was sorely missed in the middle of the park. His key is impact with the ball, not distribution of ball."
Agree that Leuluai is a hooking option and should be playing there in N Friend's absence. Godinet had another lively stint off the bench and is pressing for a starting spot. However when Friend eventually returns Taylor could be the odd man out and face time on the sidelines due to Godinet's form. Elliott has made it clear that Mara is not rated as a hooking option by using Taylor. Mara turned out for the Auckland Vulcans in their 24-12 win over the Newton Jets in the NSW Cup on Saturday afternoon.
From @ AC
"I agree with most of this article, except item 3) about the Sharks. The club seems to admit that the players have breached doping rules, by suggesting the accept bans. You seem to suggest they take an innocent until proven guilty approach. If it is clear the players have broken the rules, then I would be much more disappointed if the club just said "Oh yeah? Prove it!" Yet, that seems to be what you suggest they do. Now, I do admit the club hasn't handled it the best, but lets not defend doping."
I was not defending doping in point three of last week's column. If a reverse onus approach was to be taken as you suggest this would conflict with the fundamental legal rights of a person i.e section 27(1) of the New Zealand Bill of Rights. At this stage it is not clear that players have broken the rules with regards to doping. The process could have been better handled by the Australian Crime Commission from the beginning had they presented hard evidence to prove that 'X' player(s) have been doping before anything was said.
From @John
"How can you say the Tigers looked worse than the Warriors? The Tigers were playing Newcastle who played near perfect football for 70 minutes, the Tigers didn't get a look-in apart from the first few mins when they scored. Whereas the Warriors played the wooden spoon side from last year who could barely complete a set themselves without turning it over. The gulf in quality between the 2 games was monstrous."
Yes the Eels were the wooden spoon side from last year and the Warriors finished 14th out of 16 teams. The Tigers finished 10th last season with the Knights in 12th. On that basis, all sides were somewhat evenly matched going into their respective games. The Knights have recruited well and were on top of their game in the first round and absolutely belted the Tigers. But the Tigers didn't help themselves by making a number of errors plus their attitude was found wanting along with their ball handling.
6. Team of the week - round two
1. Fullback - William Zillman (Titans)
2. Wing - Jorge Taufua (Sea Eagles)
3. Centre - Blake Ayshford (Tigers)
4. Centre -Will Chambers (Storm)
5. Wing - Marika Koroibete (Tigers)
6. Five-eighth - John Sutton (Rabbitohs)
7. Halfback - Cooper Cronk (Storm)
8. Prop - Ben Hannant (Broncos)
9. Hooker - Andrew McCullough (Broncos)
10. Prop - Aaron Woods (Tigers)
11. Secondrow - Tohu Harris (Storm)
12. Secondrow - Anthony Watmough (Sea Eagles)
13. Lock - Corey Parker (Broncos)