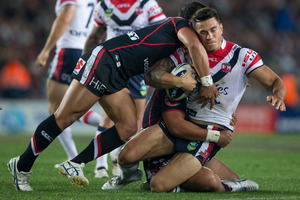 Sonny Bill Williams should get back to the dominating presence he was in his previous league incarnation - but it will take him at least another month.
Last night's match was a significant improvement on the round one game against the Rabbitohs but still far from the force we all remember.
He put in a workmanlike shift but was involved in a couple of talking points. The first saw Warriors centre Konrad Hurrell square up to him in an ill-conceived approach of bravado (does he not realise SBW is a heavyweight champion) and then beautifully stripped the ball off Hurrell in a one-on-one tackle but was unfairly penalised.
He produced one great offload that put Michael Jennings away but Jennings was denied by a great covering tackle from Glen Fisiiahi.
But it was by no means the Sonny Bill Williams show, as many had come to see.
"This year, he will give a good account of himself," says commentator and former New South Wales coach Phil Gould. "He was has been quite good [so far] for a bloke who hadn't played our game for five years and had a limited preparation.
I think in a month's time, he will be far more acclimatised than he is at the moment."
"I've been very impressed so far," says Kiwis assistant coach Tony Iro. "Given he had virtually no pre-season build-up, my expectations were quite low. He was always going to struggle with the pace of the game and it will take four to six weeks for his body and heart to get used to the tempo."
"There is a lot of improvement in him," says former Kiwis and Warriors coach Frank Endacott. "It will take him a little while but he is the kind of guy who will improve rapidly."
Williams is accustomed to new challenges but is returning to a different world. While the fundamentals look the same, the game is significantly different to 2008.
"The athletes are bigger, stronger and faster than they have ever been," says Warriors strength and conditioning coach Carl Jennings, who previously filled the same role at Penrith and Canberra.
Even on the evidence of just two weeks, it seems that Williams isn't quite the physical presence that he used to be.
"He probably doesn't stand out as much any more," says Iro. "He is probably not as unique in terms of his physical characteristics, as everyone else has got a bit bigger."
It is easy to forget just what a force Williams was. As an 18-year-old, he starred in the 2004 grand final, with his jarring shoulder charge on Chris Flannery one of the enduring memories from the Bulldogs' 16-13 victory over the Roosters. In 2006 and 2007, he was the top offloader in the competition, and in 2007, scored a staggering 14 tries from second row.
It was an era where the game was quicker, before the emphasis on the wrestle at the ruck that has allowed the giants to thrive in the game again.
It was also a time when there tended to be one dominant playmaker - rather than the two we have today - and the links between hooker, halfback and fullback were not as pronounced.
Williams' last season was also the last time there was just one referee on the field and the presence of two officials and the differing interpretations have also changed the way the game is played.
"He is going to get caught out for a while," says former Kiwis captain Hugh McGahan. "There will be some wake-up calls but he will adjust."
"I don't know what his intentions are - no one does - but if you want to see him absolutely back to his best, he would have to commit himself for another season," says Gould.