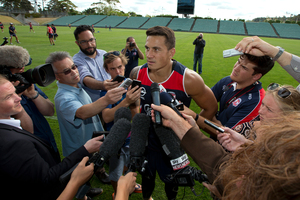 Just when you thought it was safe to like Sonny Bill Williams again ...
Mr Superstar was Joe Ordinary on debut for the Sydney Roosters in defeat to South Sydney. Little wonder, because he'd spent the off-season getting ready for a joke of a boxing promotion.
I want to like SBW because, man, he can play - I sometimes do, truth be told, and he seemed to turn an attitude corner with the Super 15 Chiefs. But normal appalling service resumed this season.
Why another column on him, you might ask? Well, he's in town to play the Warriors tonight. SBW is a ratings sensation, and we live in a world dominated by polls. SBW is a phenomenon. An irony of Richie McCaw's career is that a man who epitomises what individual greatness within team sport is about can be overshadowed publicity-wise by a bloke of no particular charm who dabbled in rugby, and is to team ethics what Kim Dotcom is to marathon running.
Maybe this is old school, but SBW's attitude stinks. He walked out on the Bulldogs, flitted around New Zealand rugby teams, and is still at it with the Roosters, turning up late for 2013.
Even the earthquake and World Cup couldn't get him to concentrate on rugby with the Crusaders. Oh no, off he went, boxing under a charity pretence while his teammates did the hard yards and everyone sucked up to his superstar-ness.
This meant he effectively bludged a place in the World Cup final thanks to sycophantic coaches who, when it came to the crunch, were loath to stick him on the field when the All Blacks were knackered. What came next: Thanks lads, thanks country - although unfortunately I can't make the victory parade.
SBW doesn't necessarily come across as narcissistic but his actions say something else. The legendary sportspeople - McCaw, Don Bradman, Franz Beckenbauer, Michael Jordan etc, led from the front. They made their teams what they were. The only thing SBW leads with is his left, and no doubt he'll turn the Roosters into his latest doormat.
There are intangibles in sport, including why we support teams in the first place. Somewhere in the deal has to be a belief that players and fans are fighting the same cause. Yes, this is a dinosaur calling, and SBW may represent the attitude among players of today.
But every NRL point counts and a one-for-all attitude is priceless. A committed Sonny Bill could have started the Roosters off on the right foot for the year. As per usual, he was more interested in his own corner.