Brisbane's 25th anniversary game revives memories of of the day league changed north of the border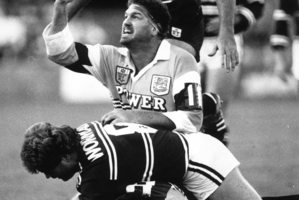 Wayne Bennett's lasting memory of the Sunday afternoon in 1988 that changed league's landscape forever was not Brisbane's landslide victory over defending premiers Manly.
"I just remember the feeling of absolute relief," the club's foundation coach said on the eve of Brisbane's 25th anniversary game against Manly at the same ground tonight.
"It was the feeling you have after [winning] a grand final."
The 44-10 scoreline didn't matter to Bennett. However, it did a lot for the club's image and to turn the tide of public opinion early.
Bennett had been poached from the Raiders by one of the club's four owners - the late Paul "Porky" Morgan - who camped on his Canberra doorstep until he got the man he wanted.
Morgan, foundation chairman Barry Maranta, publican Gary Baulkin and businessmen Steve Williams sold Bennett on their dream of building a club for Queensland players who would entertain league fans.
They handed him a side led by the game's best player, Wally Lewis, who scored two tries, and featuring a cheeky young halfback in Allan Langer, as well as a stack of Queensland State of Origin stars.
Despite all this, the Broncos galloped into the ARL premiership at Lang Park on March 6, 1988, with many league fans both sceptical and angry their Brisbane clubs had been stripped of their superstar players by the Broncos.
Like Arthur Beetson, who eight years earlier at the same ground led Queensland into battle against NSW in State of Origin, Bennett knew what was riding on the result.
"We hadn't played a game and everyone expected us to win the premiership in our first year because of the players we had," said Bennett, who eventually delivered the club six titles.
"I had come from Canberra [beaten in the 1987 grand final] so I had a fair idea, but the fans didn't know how we would stack up.
"We had a lot of dramas before we even got on to the field and the Brisbane clubs were at war with us.
"There was just such a great expectation on the Brisbane Broncos from day one."
Penrith supremo Phil "Gus" Gould, who owned State of Origin's best coaching record until Mal Meninga's unprecedented seven straight series wins, said the day Lewis and sidekick Langer thumped Manly, league changed forever. While the Broncos ran out of steam to miss the finals in their first season, making their first decider in 1990 and taking another two years to snare a maiden premiership, Gould told guests at Broncos Leagues club this week that it still didn't take long for the Queenslanders to be the envy of other teams in the competition.
"They were a team you had to turn up and play the best you possibly could or you were no chance at all," Gould said.
"They were a team who were never beaten in a game, they were ruthless, they were relentless and you lived in fear of that. They had this aura about them."
That aura isn't there in 2013.
The man charged with turning things around and winning the club a seventh premiership, Anthony Griffin, remembers watching Brisbane's historic 1988 win in a crowded club in Rockhampton.
He was playing league for Brothers at the time.
"For us in the country, the Broncos hadn't really grabbed fans, we just knew they were playing in the ARL competition," he said.
"But I vividly remember Wally and Alf [Langer] doing their stuff that day," said Griffin.
"So for a rugby league tragic like me to be coaching this great club today is a an absolute privilege and honour for me." AAP