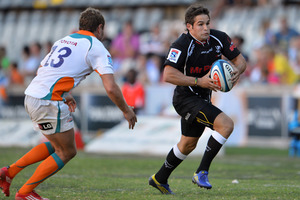 Sharks coach John Plumtree subscribes to the policy of rotation during the course of the marathon Super 15 competition but round three is too early to be resting players and he named an unchanged match 22 for the visit to the Southern Kings on Sunday.
The starting 15 that beat the Stormers in Durban last week is retained en masse and there are no changes to the bench.
"That 22 plus backline players Riaan Viljoen and Marius Joubert is pretty much it for us because we are carrying long-term injuries," Plumtree said. "Hopefully we can stay injury free until the guys that are out are ready to come back and we can swap the battle-weary for the newly rehabilitated."
The Sharks are missing hooker Bismarck du Plessis, prop Dale Chadwick, five-eighths/centre Butch James, centre Tim Whitehead and loose forwards Willem Alberts and Keegan Daniel.
After this week's third consecutive SA derby, the Sharks host Aussie teams in the Brumbies and the Rebels and then have a bye week.
The unchanged team means that Plumtree has settled on Cobus Reinach as his first-choice halfback. For the third week in a row, Charl McLeod is the halfback cover on the bench as the coach looks to build consistency between his No 9 and five-eighths Patrick Lambie.
If the unbeaten Sharks beat the Kings and get past the two visiting Australian teams, they will be well set up entering their bye week.
"In theory it looks great, but it could all unravel in front of our eyes if we don't maintain our standards and make sure we are up for every game, and put in 80-minute performances each week," Plumtree said. "There are no easy games in Super Rugby, they are all generally pretty tight and we're expecting another tough one this weekend."
In saying that, the Sharks are clearly focused on what they have to do and are putting a big emphasis on improving, particularly on attack and scoring tries.
'It is about high standards and maintaining them," Plumtree said. "The team is mature, it's been together for a while - we have a few babies in there but generally the core of the team is intact.
"We've had some experiences in the past where we've dropped our guard and haven't played very well and that's cost us, but we don't want to dwell on that. We want to focus on maintaining the standards we've set for ourselves because ... your standards are your lifeblood."