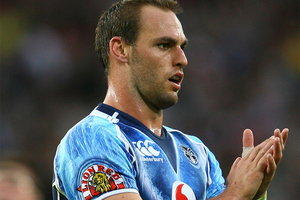 The Warriors will take the phrase 'cool off' to new levels when players take a spell on the interchange bench this season.
The club have purchased a number of core cooling units which see players dip their hands into over-sized gloves. They are largely mobile freezer units which have been found to reduce core temperatures quickly and improve fatigue levels and performance during matches.
The concept was developed at Stanford University and teams around the world are tapping into their potential, including the San Francisco 49ers who utilised them recently in the Super Bowl. Warriors players will put their hands in the units when taking a break on the interchange and at halftime to - even in the middle of winter.
"The boys feel a little fresher when they are using them," Warriors sports science manager Brad Morris said. "They are coming off the field and normally sweating quite heavily. In two to three minutes, most of the boys have stopped sweating and core temperatures are in a more optimal range.
We should get more work out of them once they are back on the field.
"The fact you are getting the double benefit of slightly more work and feeling fresher is worth the time and money the club has spent on them."
The mittens don't come cheaply, retailing for $1075 in the US, but sports science is an area the Warriors have invested heavily in over the off-season.
On top of the gloves, they have also constructed a new gym to the tune of $1 million complete with altitude chamber and anti-gravity treadmills and are utilising more technology to track players' performance in training and games.
The gloves caused a stir recently when Warriors players tried them at training but they are becoming more used to them.
"It's different," second-rower Ben Henry said. "The science behind it kind of blows you away, increasing your performance by 10 or 20 per cent. I think at the end of the day it's a mentality thing. If you believe they work for you, they will. That's the attitude I have taken. Hopefully it will improve my game and those of the boys."
It should at least make the Warriors the coolest team in the NRL.
- APNZ