Australian NRL club executives expected to give go-ahead for proposed annual tournament in Auckland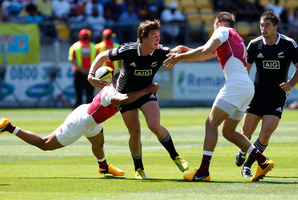 An annual National Rugby League Nines tournament that will bring millions of dollars into the Auckland economy appears set to get the green light, although it is unlikely the 2014 event will take place over Anniversary weekend as originally planned.
The concept - which promoters Dean Lonergan and David Higgins of Duco Events believe will rival or even eclipse Wellington's iconic rugby sevens tournament - received further backing at a meeting of NRL club executives in Australia on Wednesday.
Support for the event had appeared to be waning when notable league figures such as coaching guru Wayne Bennett, influential Panthers chief executive Phil Gould and Australia captain Cameron Smith expressed reservations over the late January timing and player welfare.
Concerns were raised that the tournament would cut across the glitzy pre-season All Star game, an event that has attracted praise for its positive impact on Australia's indigenous community.
And with a league world cup to take place in Europe in October and November, there were also suggestions top players would not have time to adequately prepare for the nines following their mandatory off-season break.
However those concerns appear to have been adequately addressed, with the 2014 event now pencilled in for the weekend of February 8 and 9, a window clubs currently use for pre-season trials.
The NRL clubs have been asked to provide final feedback on the proposal, and a decision is likely within the next two weeks.
Mr Higgins was hopeful the clubs would commit to a concept that would pump around $4 million a season into the game's coffers through prize money and television revenue, and provide significant marketing opportunities for the sport at a time when it was largely inactive.
"Myself and Dean have invested two years and close to $250,000 getting to this point so obviously we're hoping the proposal goes ahead," Mr Higgins said. "But we are in the hands of the NRL and the clubs. It's their game. If they decide that our proposal has merit then obviously it will be a privilege to work with them."
Auckland Council's events arm Ateed has agreed to help fund the tournament and broadcaster Sky Television is also an enthusiastic backer.
Wellington's popular rugby sevens tournament has been estimated to pump $15.6 million into the region's economy each year.
A similar event in Auckland would be expected to at least match that, while there would likely also be a spinoff in tourist dollars from visiting Australian league fans.
New Zealand's representative in the NRL, the Warriors, is particularly keen on an event that would raise the profile of the sport in this country, and likely provide significant commercial benefits for the club. Chief executive Wayne Scurrah described Wednesday's meeting as "pretty positive".
"The concept is still alive," Mr Scurrah said. "None of the clubs are negative. The biggest challenge is how it fits in the scheduling."
Auckland NRL 9S
*Annual pre-season league tournament styled on Wellington's rugby 7s.
*All 16 NRL clubs would participate and be contracted to bring star players.
*Likely to be held on Anniversary weekend, although could be later in 2014 because of the world cup.
*To be held at Eden Park or Mt Smart Stadium.
*Supported by Auckland Council events arm Ateed and broadcaster Sky Television.

Play Virtual & Fantasy NRL
Test your tipping skills with Virtual or create your dream team with Fantasy NRL and be in to win a slice of over $7,000 in prizes.
Get in the game and sign up now. Competition kicks off 7 March.