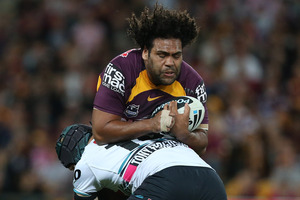 Stephen Kearney admits the departure of Darren Lockyer in 2012 left a bigger than expected hole at the Broncos, which is why they have enrolled senior players in leadership classes during the off-season.
Kearney, who joined the Broncos as assistant coach in October last year, has been involved in efforts to improve the leadership culture of the Brisbane team. Captain Sam Thaiday revealed recently that he felt he was "drowning a little bit" with the burden last season.
Thaiday, vice-captain Corey Parker and senior players Justin Hodges, Alex Glenn and Andrew McCullough have been attending tailored leadership classes since November, provided by an independent consulting company.
"It is different for each club but the thought was we could do with some improvement in that area," Kearney told the Herald on Sunday. "They had been led by Darren for so long but I think last year, after the State of Origin series especially, his absence was felt.
"In the past they had someone who knew what to do in different situations; there had always been a leadership group here but I think Darren had taken on much of the burden himself and he had such a presence at this club."
The situation contrasts sharply with Kearney's former club the Storm, where Cameron Smith, Cooper Cronk, Billy Slater, Ryan Hoffman, among many others, form a powerful leadership core.
"In Melbourne there are a number of guys in that position," says Kearney, "and ideally leadership should be dispersed across the team."
Kearney has settled well north of the border, enjoying the climate and the change of scenery after two forgettable seasons at Parramatta. While he doesn't have a defined role, Kearney has been spending a lot of his time on the defensive side of the game, a major concern for the Broncos in 2012.
"Anthony [Griffin] has had me working in that area," says Kearney. "There are certain ideas and techniques from the Storm especially which I think can be of benefit to this group.
The Broncos have also put a major off-season focus on wrestling, with their inability to win the ruck seen as a key failing last season. Kearney worked with jiu-jitsu black belt John Donehue in Melbourne and has employed his expertise.
"He's brought a new way of training to the Broncos," McCullough said of Kearney earlier this year. "It has been refreshing and probably what we needed. He's given us a new angle on things. He's been to a couple of clubs, both successful and unsuccessful, and he knows what does and doesn't work."
Meanwhile, Kearney will make his first trip to Dunedin in over 25 years next week, when the Broncos travel south to play the Warriors in the final NRL trial of 2013. His only previous visit to the southern city was as a 13-year-old schoolboy, accompanying his grandfather on a road trip around the South Island.
"He used to deliver computer paper print-outs," says Kearney, "I guess you call them PDFs these days. It was a five-day trip through a few cities and I tagged along for the ride."
Next week's visit will be more serious business. While reluctant to elaborate, Kearney expects the Warriors to be serious contenders this season, with new coach Matthew Elliott keen to put his own stamp on the team.
"They will be a powerful side as always and I am sure that Matt will utilise the strength they have to set a good platform," says Kearney. "Matt has a style he likes but you always have to work with the resources that you have. I'm sure they will be a threat, though."
At the Kiwis heritage camp in late January Kearney noted a distinct difference among the Warriors in the group, compared to what he saw during the build-up to the October test in Townsville.
"There was a spring in their step compared with the back end of last year," says Kearney. "That can be normal at the start of the season but I think the change [in coach] has been a refresher for them. The quality has always been there but this year they will be pushing for a finals position."
Making the play-offs is a bare minimum for the Broncos, who have only missed the finals twice (1988 and 2010) since they were established 26 years ago. However, they haven't won a premiership since they claimed their sixth in 2006, the longest title drought in the club's history.
"There is a massive expectation here," says Kearney, "but I would rather have that than the opposite. They are used to success here - it comes with the Broncos jumper and brand - but I think it is a positive."