The Kiwis winger is hoping the Craig Bellamy situation is resolved soon as St George prepare for the NRL season.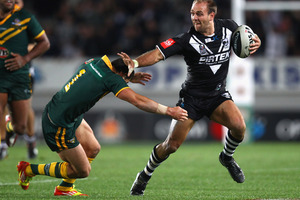 Whether Craig Bellamy says yes or no to the Dragons, Jason Nightingale hopes the situation can be resolved as soon as possible.
St George made a massive A$5 million ($6.21 million) offer to the super-coach before Christmas, and the 'will he, won't he' saga has dominated much of the NRL off-season.
Current coach Steve Price is locked in for this season but his future beyond that is contingent on Bellamy's plans. Bellamy hopes to make a decision by the second week of February and Nightingale says it can't come soon enough.
"He says he is going to make his mind up pretty soon and for our club - whether he decides to come or not - the sooner, the better it will be for our 2013 season," Nightingale told the Herald on Sunday.
"[The whole situation] has been fairly intense, and players, staff and the whole club will be a bit more settled when it gets sorted.
"It's another thing we can't be focusing on. I'm not sure what he is doing - whether he is coming or not - so I can't really comment but I am looking forward to the outcome so we can focus on 2013."
Aside from that, Nightingale reports that the Dragons' pre-season has been one of the toughest he can remember. After missing the end-of-season test in Townsville through injury, he has been hard at work since October, rehabilitating his knee and working his way back to full fitness.
"It's been real tough actually," he laughs. "There was no Kiwis tour, which usually gets me out of the first part of the off-season. It's been a hard slog but I feel fitter and stronger than ever."
Most of the Dragons' pre-season had been down in Wollongong, meaning 5am starts for Nightingale before the drive down the south coast from Sydney. The coaching staff has come up with a particularly painful pre-season routine, where every session is slightly longer than the previous one.
"We are always adding on to each session," says Nightingale. "We never do the same amount. They always make us do a bit more and that has been very hard mentally."
On the New Zealand front, Nightingale was to the fore at the Kiwis' Heritage Camp, completed last weekend in Sydney.
Still only 26, the right winger has been a virtual ever-present since his international debut in 2008. Mature beyond his years, he has been part of the Kiwis' leadership group since 2011 and takes particular pride in offering guidance and advice to the young players in the back division.
"Especially for the guys in the back three, I try to help out where I can," says Nightingale, who has played 16 tests, "and help to provide that link between players and staff."
He says the Kiwis brains trust have identified their sluggish starts as a major area of focus for tests in 2013.
"It is something we looked at last year. In many games, it does seem that the Aussies get off to a better start and we are chasing. There have been exceptions but in most recent games, it has taken us a while to warm into things.
"Then we realise we're more than competitive and get ourselves in position to win certain matches and fall short. If we didn't give up some head starts, we would probably put ourselves in position to win more."
There were initial signs of a turnaround last season, where they scored the opening try in the Eden Park Anzac test and also produced a solid first quarter in Townsville.
Nightingale says being competitive from the whistle, and not falling to scoreboard pressure, is crucial to building belief in the Kiwis squad.
Though they are reigning world champions, the Kiwis haven't beaten the Kangaroos since late 2010, though the gap seems to be closing.
"We have had a few sub-par performances in the last few years but in general, we have matched up well. There is a real belief that we can compete at that level. The leadership group and the staff believe we can win - it is just about translating that to the whole squad. We certainly go into a game thinking we are going to win more than we are going to lose."