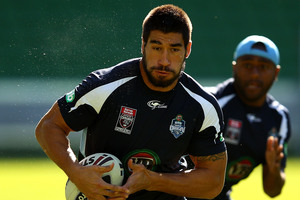 A solution to the Origin tug-of-war over New Zealand players has not stopped controversial convert James Tamou copping more cheeky barbs - from a North Queensland teammate.
Antonio Winterstein left with fellow Cowboy - and former Queensland target - James Taumalolo yesterday for New Zealand's inaugural three-day league camp in Sydney.
But the Cowboys flyer's attention soon turned to a certain New Zealand-born player they were leaving behind.
"There's not a lot of us at the Cowboys who have pledged our allegiance to the Kiwis," Winterstein smiled.
"But we like to make some noise about it when we can."
These days New Zealand are breathing easier over the Origin threat after the ARLC clarified Origin eligibility rules in the wake of Tamou's defection, ensuring the likes of Taumalolo will never be tempted again.
Still, New Zealand will look to provide a taste of the Origin bonding experience at the unprecedented camp in Manly.
In what will be an annual event, the "Heritage Camp" will cater for more than 30 players - their first step toward the World Cup title defence.
It will be a shot in the arm for the Kiwi ranks after Tamou ruffled feathers by switching his loyalties in order to play Origin for NSW last year.
Tamou's plight reignited the Origin eligibility debate that embroiled the Cowboys' 2012 Rookie of the Year Taumalolo.
After the teenage secondrower was courted by Queensland coach Mal Meninga, New Zealand team manager Tony Kemp had to fly into Townsville to convince Taumalolo to stay loyal.
Eligibility rules were changed to ensure players could only be considered for Origin if they had resided in the state they had been selected for since the age of 13. Auckland-born Taumalolo - who arrived in Australia aged 14 - earned Junior Kiwis co-captaincy in late 2012 and is already in the World Cup mix after making New Zealand's senior train-on squad for last year's Anzac test.
"He's a talent and I am really pleased that he chose to go with where he was born," Winterstein said.
"For me I would love a chance to grab the black and white jersey."
- AAP