Kearney not banking on Williams for worlds, but he'd 'be a wonderful bonus.'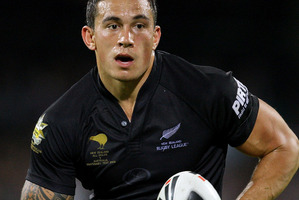 Not everyone is happy about Sonny Bill Williams' return to league but the timing could be perfect for Kiwis coach Stephen Kearney as he plots the defence of New Zealand's world title next year.
Williams on Tuesday made official what everyone expected when he confirmed a one-year A$550,000 ($703,145) deal to return to the NRL with the Sydney Roosters.
It's likely it will be a one-year flirtation only, with most expecting him to return to rugby the next year with an eye on the All Blacks' 2015 World Cup campaign.
Williams polarises opinion in Australasia like no other player of his era and some, including former Bulldogs teammate Hazem El Masri, are upset he can return to the NRL after walking out on the club and a five-year deal in 2008.
The timing is poignant, given that deal with the Bulldogs would have expired two weeks ago, but the timing is perfect for Kearney and the Kiwis.
Of course, nothing is certain in Williams' world and he declined to comment when asked if he would make himself available for next year's league World Cup in England and Wales. He is also New Zealand heavyweight boxing champion and wants to find time to explore his potential in boxing further.
Kearney isn't banking on Williams being available for the World Cup but the 27-year-old would be a guaranteed selection if he was fit and willing.
"I think it's wonderful to have Sonny back in the game," Kearney said.
"There's no doubt about that. Like he said yesterday, he has to earn his opportunities even at the Roosters.
"He's injured at the moment so I don't want to think about [whether he will play at the World Cup] and he probably doesn't either. His priority is to get himself right and playing good footy for the Roosters, which I think he will do, and then work from there.
"A lot can happen between now and then. We will keep following the plans we have in place. If Sonny's part of the group, he will be a wonderful bonus for us. We will look at it that way."
Williams was just 18 and only a few matches into his NRL career when he first played for the Kiwis in 2004, becoming the youngest person to pull on the black and white jumper in a test. He played only seven tests in total before he walked out on the Bulldogs and league for French rugby club Toulon.
It was a blow to the Kiwis but Kearney's side still went on to upset Australia to claim the World Cup.
NZRL high performance manager and Kiwis team manager Tony Kemp has been in touch with Williams about his plans but Kearney will give him space to work his way back into the game before making contact.
It will take Williams some time to readjust but Kearney was convinced he would be a success.
"It's hard to say [how he might have changed as a player]," Kearney said. "As he said yesterday, he didn't do much contact in rugby union, which is a big part of rugby league. I think it's probably more that he's matured as a person with four years away from the game.
"There's no doubt he's a wonderful athlete. He's not a bad boxer also so whatever he does he will be good at it."
He's won an NRL and Super Rugby title as well as the ITM Cup and Rugby World Cup. Many will be hoping he has the appetite to chase a rugby league world crown, too.
- APNZ