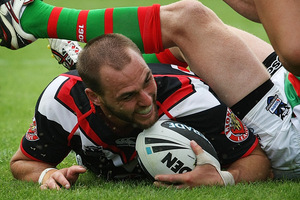 He'd love to keep his job but Warriors captain Simon Mannering says he'll willingly stand aside if new coach Matt Elliott thinks it's best for the club.
Mannering has captained the club since taking over from Steve Price in 2010. The Warriors made the finals in each of his first two seasons at the helm but stumbled under new coach Brian McClennan this season.
"Whatever is best for the Warriors, that is what I want. If that means me not being captain next year so be it.
"That has got to be the mindset for all players - you do what is best for the club whether it is for your own benefit or not."
The protracted search for a new coach had been stressful for all but the idea of a player revolt against Elliott was simply a "beat up", Mannering said.
"I'm thankful that it has come to an end and Matt Elliott is the coach for next year.
As players and a coach we are both striving for the same goal and that is to have a successful club.
"He obviously got the job for a reason and he is definitely a seasoned coach. I'm sure the people that appointed him saw a lot of positives and could see a match there for our club. I'm sure it will work out."
The disappointment expressed by several players at Tony Iro missing out on the job was understandable as many had been tutored by him coming through the junior ranks.
"That is just natural for the boys to feel a few emotions towards Sponge," Mannering said.