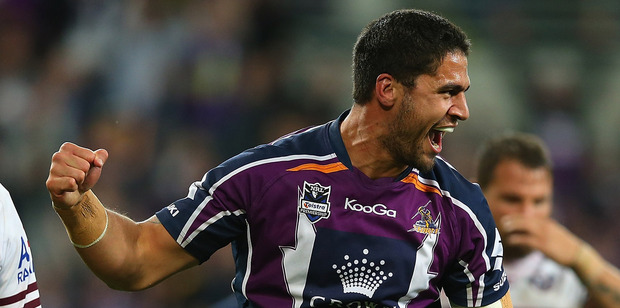 Of all the rags to riches stories of modern league, the tale of Jesse Bromwich takes some beating.
In another world, Jesse Bromwich would have turned out today for the Orange Hawks against the Mudgee Dragons in Group 10 of NSW Country Rugby League, before returning to his scaffolding job tomorrow. Instead, he has played in (and won) a grand final and featured in test matches on both sides of the Tasman.
It could have all been so different, but for a couple of missed flights and a persuasive younger brother.
Like so many young Kiwis, Bromwich headed to Australia a few months after leaving school in 2008. He wasn't going to follow a league dream, as that had subsided. A promising junior player, he failed to turn the heads of the Warriors or any other NRL outfits.
"When I got to 19, and hadn't been signed, I didn't know if it was ever going to happen," Bromwich says.
Together with a school-mate, Bromwich landed in Orange, the provincial town in inland NSW previously best known as the hometown of James Maloney. They joined a scaffolding crew and Bromwich was paid for playing for the Hawks every weekend.
Life wasn't bad. They pocketed more than was available in New Zealand, enjoyed the climate and found the locals to be a friendly bunch. But something was missing.
"At the time I was drifting a little bit," says Bromwich. "I wasn't really sure about where I was going."
Younger brother Kenny was part of the Storm's development system and asked his coach if Jesse could tag along with him to under-20 training. After some arm twisting, Jesse turned up the next day and was quick to impress. He was asked if he was available to play the following weekend.
"Jesse was a big-boned, raw kid," says Cameron Smith of his first impression of Bromwich. "He always looked promising and he just needed to fill out a bit to be a first grader."
In just his second NRL game, he was part of the Storm side that lifted the World Club Challenge trophy in 2010 and he was the club's rookie of the year in 2011. This year he has gone to another level, especially in the second half of the season.
"A lot of the talk this year was about big Sam (Kasiano) but (Jesse) was a big reason why we won the premiership," says Smith. "He's probably only just realised his capabilities and what he can do on the field. Jesse does a good job at creating space around him. He's not the sort of guy that will offload before the line; he takes someone on first and then looks for an offload. He's also got the good combination of knowing when to take the ball forward and when to go across and use his skills with the ball. I think he is going to get better and better."
Bromwich has thrived at the Storm, and still sounds a little in awe of team-mates Billy Slater and Cooper Cronk.
"Billy is amazing," says Bromwich, "he trains exactly how he plays - he is flat out and always last off the field. Cooper is probably the hardest worker in the team and is always staying back practising his kicking or passing."
One of Bromwich's turning points came at the Storm's notorious pre-season boot camps, where players are taken to their physical and mental limits.
"It is the hardest thing I have ever done," says Bromwich. "You don't think you can do any more but you have to and then you find something. It makes you mentally a lot tougher."
Bromwich impressed everyone in the Kiwis' camp last week and raised a few eyebrows at one of the training sessions in Cairns. During an exercise practising hit-ups, Bromwich ran into Ruben Wiki - who was on the hit shields - with such force that he knocked the Kiwi legend into the air and clean off his feet, something rarely seen over the years.
Though there is plenty of competition among New Zealand props, the 23-year-old Bromwich seems set for a long future in the Kiwis and looks sure to be a cornerstone of next year's World Cup defence.