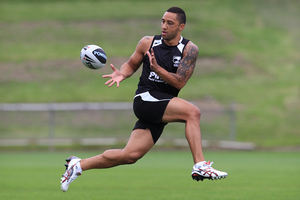 Only a few of the team which won the 2008 Rugby League World Cup are likely to defend it, writes Michael Burgess
By the time next year's World Cup rolls around it will be five years since the last event but almost a generation in terms of talent. The team that takes the field next year should look considerably different to 2008, with more than half of the starting side in Brisbane unlikely to be present.
Last night there were only six players in the starting line-up who were part of the squad in 2008 (Sam Perrett, Simon Mannering, Benji Marshall, Adam Blair, Issac Luke and Greg Eastwood). Of the starting 13 in that memorable 34-20 win, Nathan Cayless and Nathan Fien have retired, while David Fa'alogo and Bronson Harrison have slipped out of favour. Thomas Leuluai may return to the fold with his move to the NRL but it is hard to see veterans like Lance Hohaia and Jerome Ropati coming back into contention with the number of young guns on the horizon.
In some ways it is the nature of the sport. Manu Vatuvei is currently the only link to the 2005 Tri-Nations side, which memorably beat Australia 24-0 in Leeds.
There were some veterans in that team but it wasn't a particularly old squad - yet by late 2010, another five-year period, all aside from Vatuvei were gone.
It means that fresh blood is likely (and necessary) but Kearney has riches at his disposal, especially when you consider the players not selected or unavailable through injury for last night's match. The selectors have perhaps the widest choice in the modern history of Kiwi World Cup campaigns, particularly in the forwards.
Backs remain the the Achilles heel. In the last five years, the Kiwis have rarely fielded a full-strength backline, with injuries taking out key players.
It would be a bonus for Kearney to finally be able to field a pair of specialist centres in a major match. Simon Mannering was diverted from the pack for both the 2008 World Cup final and the 2010 Four Nations final while Kieran Foran was used out wide in the 2009 Four Nations tournament. Kearney will hope that men like Shaun Kenny-Dowall and Steve Matai can avoid injury while Konrad Hurrell may be a wildcard option.

One of the most interesting scenarios that will play out over the next 12 months is in the halves. For all their achievements at club level, Benji Marshall and Kieran Foran have yet to sparkle together in the Kiwis jersey. Individually, Marshall has struggled to bring his NRL form to the international arena in the past two years and, before last night, Foran had yet to taste victory against the Kangaroos.
Given their complementary skills, they should work as a duo but haven't so far. Partly because they rarely play together and possibly because they are both natural five-eighths. Certainly neither of them play in a traditional Kiwi halfback role, as seen with Clayton Friend, Gary Freeman or Stacey Jones.
In that mould there is Shaun Johnson, who could be one of the most talented players of his generation. In April this year there was no way to leave him out and he responded by scoring an 80m try and overshadowing Marshall in the Anzac test. However, such was his form slump in the back half of this season that he was lucky to make Kearney's squad this time and was always unlikely to be part of last night's team. If he rediscovers his magic in 2013 it will create crucial competition in the Kiwi scrumbase options and bring out the best in Marshall and Foran.
Another option which Kearney may employ is to have all three on the field at the same time, especially in the final stages. The strategy of using the little men to find holes in the Australian defence worked to great effect in the last quarter of the 2010 Four Nations Final, when Lance Hohaia, Nathan Fien, Isaac Luke and Marshall were all on the field simultaneously.
Foran could also be employed as a temporary dummy half when Issac Luke is spelled and all three halves (along with Leuluai) will get a chance to impress during the compressed group phase, where the Kiwis play three tests in 12 days.
Kearney also has youth on his side. The team that ran out last night featured five 22-year olds (Foran, Gerard Beale, Elijah Taylor, Dean Whare and Sam Kasiano) and an average age of 24.2. In contrast, the Australian team had an average age of 27.1, while their famed spine of Melbourne big three and Jonathan Thurston averaged 28.75. By next year Tim Sheen's team will have a sextet of players over the age of 30 (Thurston, Cameron Smith, Billy Slater, Cooper Cronk, Paul Gallen and David Shillington).

World Cup preparations will swing into full gear over the next month. NZRL high performance manager Tony Kemp heads off to England next week for meetings with the Rugby Football League, as well as accommodation and training field arrangements.
Aside from the Anzac test ( played in Canberra next year), the NZRL is in talks with their Australian counterparts about an additional test in October before both teams fly out. There are also plans for the Kiwis to play a New Zealand Residents team or one of the Pacific Nations, as an additional warm-up match before they depart for the month-long tournament in Britain and France.
According to Kemp, plans are also well under way to hold a training camp in Australia early next year for the wider squad, with up to 40 Kiwi players expected to attend. It will be modelled on the NSW Origin camps that Ricky Stuart ran for prospective players earlier this year and is planned to be held in January in New South Wales.
"The World Cup is a massive focus," said Kiwis forward Adam Blair. "We have been building for a while and you can see the different players they have brought in. We are all working towards a single goal - to retain that World Cup."
"I've deleted all those memories," joked Jonathan Thurston when asked about the 2008 World Cup final. "No, seriously, it hurt a lot at the time and we will need to make amends. It will be the last opportunity at a World Cup for quite a few of us in the Australian team and we are well aware of that."