World's best fullback thinks he can still improve as he nears his 30th birthday.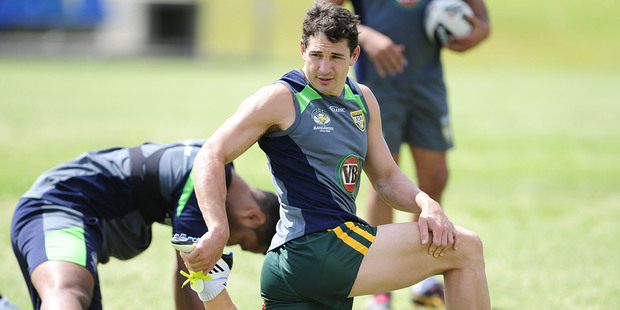 It was almost four years go but Billy Slater still doesn't want to talk about it.
The moment in question, of course, is the brain fade he suffered in the second half of the 2008 World Cup final, when the world's best player decided to take on Manu Vatuvei on the outside from inside his own 20m, got collared, and threw a match-losing hail-Mary inside pass straight into the grateful arms of Benji Marshall.
Slater looked livid as he followed man-of-the-match Darren Lockyer on to the stage to collect his player-of-the-tournament award during the post-match ceremonies.
In the sheds later Slater spurned the media, exited the stadium in indecent haste and didn't make any public comment for weeks about the biggest moment in the biggest game on league's biggest stage.
Even now he brushes aside the question of whether that incident still burns him up with the same precision he demonstrates on those meticulous lines he runs to tear teams to shreds.
"It's a team sport," the 29-year-old Storm, Queensland and Australia fullback says. "I don't look at individual accolades. I try to focus on what I can do for the team and my role in the team."
There's six reporters huddled around Slater's surprising normal, if anything, smallish frame at Townsville's Brothers Leagues Club. In his training kit, Slater doesn't look much like a superstar, much like the supreme athlete many rate as the greatest ever to play the game.
But a superstar he is, so the six reporters have five minutes with him to share. There's no room for a follow up. No, "yeah but Billy, you threw the pass?" The conversation moves on to bitten ears and Craig Bellamy's future at the Storm.
There's a belated second dig. The Herald points out that Slater turns 30 next year. He'll probably only get one more shot at World Cup redemption. The clock is ticking down on one of the great careers. Is he aware of that?
"I'm not aware of it at all. Are you trying to tell me something? Look, I realise I am over the halfway point that is for sure. But how far over it I am not too sure. You never know. You look at a guy like Darren Lockyer who played until his mid 30s, and Petero [Civoniceva], obviously they are exceptions, but I'm not saying I can't be an exception. You never know. Your body will tell you, your mind will tell you when it is time to hang them up. But I haven't got that anywhere in my mind at the moment."
Sorry mate, just saying. So you're still as driven as the first day you laced them up then?
"It's a different feeling to 10 years ago, obviously. When you are a young fella and you haven't experienced anything you just want to play that one first grade game. Now, obviously, (Billy says obviously a lot) I've achieved a lot and I've got a lot of experience, but there are similarities in the drive to improve, that's for sure.
"I still think I can improve. The things I'm good at I want to maintain because they are my strengths, but obviously trying to improve those other little things, I am always trying to do that.
"I suppose the day that the drive leaves me to improve my game, that's the time to hang them up."
Crikey mate, honestly, we're not suggesting that. Although from a Kiwi's perspective, it would be nice.
It won't happen though. Unless injury intervenes, Slater will be in the UK this time next year as part of a Kangaroos team hell-bent on erasing the one significant stain on their record.
With Johnathan Thurston and Cameron Smith - the other two-thirds of the peerless Queensland/Kangaroos spinal triumvirate - also turning 30 next year, a great era for state and country is certainly nearer the end than the start.
Both he and Smith would be in the discussion for the best player going around today, but Thurston is in no doubt as to Slater's place in the pecking order. "I've been lucky enough to play with a lot of good fullbacks but Billy would be number one," he says.
"It's one of the most important positions in the team and he is certainly the best out there. He's done a wonderful job for us over a number of years and he thrives on this kind of football.
"He's certainly a competitor. He very good talk-wise and he has a very smart football brain.
"His communication on attack and defence is probably what sets him apart from the rest.
"He just has that knack of showing up in the right place at the right time."
Except that once, when Marshall had the impeccable timing.
Slater's pretty adept at moving on. The grand final nibble on his ear that cost Bulldogs forward James Graham a 12-match ban is already ancient history.
"It was behind me after the game. Things happen on a rugby league field. There was a lot of emotion.
"I'm a player that has done stuff I've regretted in the past. So I hold no grudges. You shake hands and you move on."
Having triumphed yet again with Queensland, won the Anzac test and taken out the NRL premiership with the Storm, Slater is within a game of notching a blemish-free season.

Billy Slater
Born: 18 June 1983, Nambour, Queensland
Height: 178cm
Weight: 90kg
Position: Fullback
Club: Storm

Playing record
Storm: Games 224, Tries 140
Queensland: Games 19, Tries 11
Australia: Games 17, Tries 18