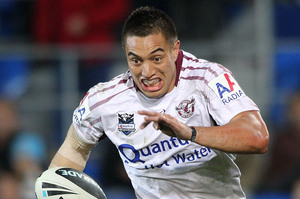 Dean Whare's tale will warm Tony Kemp's heart, that's for sure.
The man charged with retaining Kiwi league prodigies' hearts and minds, Kemp spends a good chunk of his time locking horns with what he describes as Queensland and New South Wales league whitebaiters - officials determined to shepherd the best players into their state's net, no matter what their heritage or current affiliation. Much of the time it's a losing battle, as the defection of Kiwis train-on squad member James Tamou and former Junior Kiwi Josh Papali'i demonstrates.
Given that he has lived over half his life in Australia - the now 22-year-old moved from Rotorua to Sydney when he was 10 - there could be few gripes if Whare now regarded Australia as home.
But he doesn't. Never has, never will.
"Definitely not," he says in a still noticeably Kiwi accent ahead of his test debut on Saturday.
"My family at home are all New Zealand. I never had a second thought of playing for Australia. It never crossed my mind. I never wanted to play Origin, I'd rather play for the Kiwis."
Whare's stance illustrates the problem with attempting to legislate international eligibility. One option on the table is a 50-50 rule, where players would represent the country in which they had spent over 50 per cent of their lives. Such a rule would preclude Whare from representing the country of his birth, the country to which he and all his family still believe he belongs.
"Wearing that black jersey is every young Kiwi fulla's dream," he says.
"It's the way I was brought up. I always go back to New Zealand and visit my family and it still feels like I'm back home."
Whare's story may be typical in many respects (his family crossed the Tasman to pursue better work opportunities and a better lifestyle than Rotorua could offer) but in others it is quite different.
Born to a teenage mother, he was mainly raised by his uncle and aunty. When they decided to emigrate, it was decided the best thing for Whare was to go with them.
It's a story with parallels to that of Kiwis captain Benji Marshall, who was also raised by extended family.
The Whares' emigration is a success story. Dean's uncle Preston runs a thriving personal training business, while his mother and younger sister have now joined him in Australia.
Whare regards his cousins as brothers and sisters, and "loved every moment" of the eight years he spent living with them in Sydney.
"The pathway I took, coming to Australia, definitely made it easier to make the top grade and further my career. If I had been back in New Zealand it could have been totally different.
"I'm glad I took that pathway."
After playing his junior football with St George and then breaking into the NRL with Manly just last year, Whare admits his quick elevation to the test squad came as a shock.
Mentored by Steve Matai at Manly, the Panthers-bound Whare found himself in the slightly awkward position of having usurped his veteran fellow Sea Eagle's test spot.
"We had a joke about that on Friday. Steve was 100 per cent with me. He has always been happy for me. He was pretty devastated when I signed with Penrith. He's had my back since day one so I thank him for that."
With the classy Jamie Lyon also contributing to his development, it is hardly surprising Whare has come on so quickly.
"In my eyes they were the best centres over the last couple of years, so I've tried to learn as much as I can off them. I think it's worked out good. I try to pick their brains and get a little bit off each of them every time I play."
Selected at centre for Saturday's match, he can also play fullback and has been used on the wing, although that increasingly specialist position remains a bit of a mystery.
"We had Jamie Lyon come on to the wing at times this year and he had no idea what he was doing. He'd be telling us in games 'never put me on the wing again'. He's one of the best centres in the world and he can't play on the wing."
The "neither can I" is implicit.
Whare has great memories of Townsville. On his NRL debut there last year he scored with his first touch in the fifth minute, and had a hat-trick inside half an hour, becoming the first Manly player to ever notch a treble on NRL debut.
"It was a dream debut. We hadn't won up there in seven years."
A reminder that the NRL isn't easy soon followed as he went 10 matches before scoring again.
Kiwis fans will be hoping history repeats when Whare makes a second debut at Dairy Farmers Stadium on Saturday night.
"Yeah that would be awesome," he says of maybe scoring another hat-trick, "but a win would be better."