The Warriors didn't come close to emulating the Breakers' feat of winning an Australian championship. That didn't stop the usual NRL intrigue.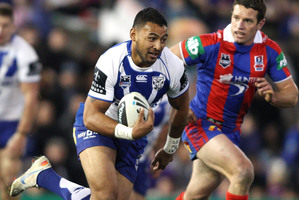 1 Don't come Tuesday - Bluey gets the boot
It started as a love affair but, like a lot of romances, the magic soon faded. The affair ended with an awkward phone call on a miserable Monday night. After overseeing a run of six straight defeats that saw the Warriors plunge from finals favourites to wooden-spoon contenders, Brian McClennan was sacked less than a season into the job. The writing was on the wall - and in this newspaper - before his final match in charge against Penrith, but many refused to believe it until a hastily arranged press conference on Tuesday, August 21, confirmed it.
2 The biggest sporting franchise in Australasia
That's what the Warriors are going to be. We know that because Eric Watson and Owen Glenn told us at a glitzy press event at a casino on a Thursday in late July. Glenn oozed wealth and expectation, while Watson painted the picture of a beautiful future complete with a state-of-the-art stadium, multiple premierships and "anti gravity thingies".
The club hasn't won a game since.
3 Gone to the Dogs (1)
"Des Hasler isn't going anywhere. He is poised to sign a three-year extension with Manly which, with bonuses, is worth more than $1 million a season," a Sydney journalist exclusively revealed on October 7, 2011. By 10.35am on the same day the journalist had slightly amended his story. "Canterbury officials have snuck under the guard of their Manly counterparts and secured the services of Des Hasler." Ahem. A little over a month later the super coach was sacked by Manly, allowing him to join the Bulldogs a year early and engineer a remarkable ninth-to-first regular-season transformation.
4 Gone to the Dogs (2)
"I want to thank everyone at the club for what they've done for me. I've enjoyed my time here." Those were Krisnan Inu's parting words when his switch from the Warriors to the Bulldogs was confirmed on May 24. "Yeah, no probs," Warriors chief Wayne Scurrah probably thought, "I'm really looking forward to you playing like a genius week-in week-out and leading the Dogs to the grand final while we pick up most of your salary. Yeah, like that'll happen." Oops.
5 Just plain gone - Gallop pole-axed
The abrupt end of David Gallop's 10-year reign as the game's top executive on June 5 caught everyone on the hop, however it appears his "sacking by mutual consent" had been on the cards since the formation of the ARLC. In sending him packing with a A$700,000 ($871,000) golden handshake, ARLC chairman John Grant said Gallop's style had been too reactive. Under Grant the ARLC hasn't yet bothered to close eligibility loopholes, pushed James Graham's biting tribunal back a day and is "looking into" the Bulldogs' Mad Monday abuse scandal. Yep, they're less reactive all right.
6 SBW watch
Credit Matty Johns with the scoop that Sonny Bill Williams is taking his talents to Bondi Junction next season. Probably. Johns revealed during his morning radio show in early July that SBW to the Roosters was a "done deal". Johns seems to have a pretty good line on what is going on in the NRL. Then again, given some of his pronouncements on the likely identity of the next Warriors coach, maybe a bit of caution is best.
7 Ban the shoulder charge
It started when Frank Pritchard sent Panthers winger David Simmons to Disneyland for a few weeks, gathered pace when Ben Te'o KO'ed Tigers prop Matthew Groat and came to a head when Greg Inglis nearly removed Dean Young's. Despite appearing in every tackle on the big hits section of the ARLC's grand final highlights promo, the shoulder charge is on its way out. No doubt the newly less reactive ARLC has formed a steering committee to oversee the process.
8 Ban the video ref
Not a good year for the men with the square eyes. Their sins have been too numerous to fully document, however the Greg Inglis "try" that settled the first Origin match attracted a degree of scrutiny. Justin Hodges' clincher in the third match, when he ran behind a dummy runner, was described by Brad Fittler as the worst decision he'd ever seen (even Wally Lewis agreed it was crook) but both of those paled in comparison to the outright shafting the Cowboys received against Manly in the finals when Kieran Foran got away with a monstrous knock-on. "I am not saying they are biased, I would say they are incompetent," Cowboys coach Neil Henry said. Steering committee, anyone?
9 Bring back the biff
When somebody suggested he bring back the biff Mike Tyson-style, James Graham appears to have become awfully confused. But like all good front rowers he simply went out and did what he was told. Graham's not guilty plea on the biting charge he received from getting his teeth too close to Billy Slater's ear in the grand final scuffle appeared a questionable tactic. Given the video evidence, he may have been better served pleading guilty while attempting to get the charge downgraded to "a bit of a nibble".
10 Player power strikes
Tim Sheens was reportedly sacked because he got offside with some senior players for attempting to shop their mates to another club; Brian McClennan's downfall was partly attributed to losing the dressing room (unlikely given its proximity to his former office); Brian Smith was axed after unfavourable post-season player reviews; and Raiders coach David Furner was almost ousted by his grumpy mob before turning things around.
While the two clubs that made the grand final boasted coaches with the firmest grip on power, it wasn't a great year for those who opted to give the lunatics a say in running the asylum. Strange, that.