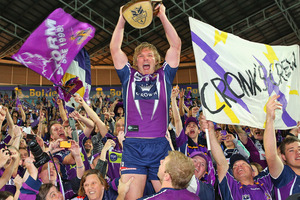 Melbourne coach Craig Bellamy hailed his forwards after Canterbury's much-vaunted pack were kept quiet as the Storm secured a second NRL premiership on Sunday.
Frank Pritchard, Sam Kasiano and former Storm bookend Aiden Tolman had all been in fine form during the Bulldogs' run of 14 wins from 15 games.
But they were unable to exert any control up the middle in the first half as the Storm dominated for long periods, laying the platform for a second premiership win for the club.
Canterbury skipper Michael Ennis was also unable to exert too much influence in attack and was forced into making 48 tackles as Bryan Norrie, Jesse Bromwich, Todd Lowrie and Ryan Hoffman all produced big performances.
"It helped early that we had as much ball as we did, so their big guys probably got tired out by the amount of tackling they had to do," Bellamy said.
"When you see the Norries, the Ryan Hinchcliffes, the Lowries, they're not big guys.
"The way they throw themselves into their defensive work is an inspiration to the team."
Ben Barba was always a threat to the Storm, but some outstanding defence kept him largely in check.
The diminutive fullback has played an integral part in the Bulldogs' success this year, and almost got his side back into the game in the 66th minute when his brilliant kick on the run bounced invitingly for Josh Morris.
The NSW centre looked certain to score, but under pressure from Slater, and hampered by an awkward bounce, he was correctly adjudged to have knocked on, before the superstar fullback jumped up and punched the ball to safety.
It proved to be a decisive moment, with the Bulldogs still only 10 points behind despite being largely dominated by the Storm.
Bellamy claimed he'd never seen his side defend better and it was the key factor in winning the game.
"It was pretty crucial, if he (Morris) scores there then it's a four-point game and anything can happen," Bellamy said.
"That's what you expect those players to do, they keep coming up with the big plays and that is why they call them the big three.
"We've built our club on defence and in the second half we were simply outstanding."
Smith said the experience in the side was key during the build-up to the game, with eight of the team having played in grand finals, compared to four for the Bulldogs.
The Australia and Queensland skipper also credited the relaxed environment as a reason for the win.
"Coming up here and seeing how much support the Bulldogs had could have been pretty daunting," he said.
"I think from the grand final breakfast we were pretty relaxed and happy to deal with everything we had to," Smith said.
"A lot of that is down to Craig's planning, but I couldn't be prouder of how the team performed tonight."
- AAP