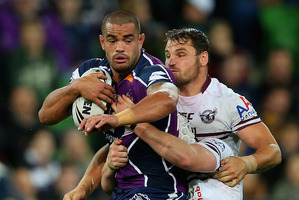 1 Game of the week
Bulldogs v Storm
Not a tough one to pick this week. The two best sides have made it through, so count that as a success for a new finals system that rewarded higher finishing teams with home advantage. As an aside, the impact of the new system on the Warriors wasn't as great as some predicted.
2 Wrestle-mania
The key to the Bulldogs' chances isn't called Des or Ben, or even Michael. No, according to our friends at the Daily Tele it's a man called Nevel - the club's wrestling coach. Marcos Nevel, who became a Brazilian ju-jitsu master studying under the famous Gracie family, was appointed Bulldogs wrestling coach late last year. "Over the past 10 or 12 months, I can see the improvement in their defence," says Nevel. Best keep an eye out for those rear naked chokes, guillotines and Achilles ankle locks then.
3 The other Inu
Discarded Warrior Krisnan Inu isn't the only player in Sunday's grand final to be plucked from the scrapheap. Unwanted by Wayne Bennett at Newcastle, Cairns-born Tonga prop Richard Fa'aoso was given a lifeline midway by Storm coach Craig Bellamy. Fa'aoso hasn't been quite as successful as Inu - he has played just five games and hasn't scored a try - but he will get a run out on Sunday as a replacement for injured prop Jason Ryles.
4 Bringing out the best
Servicing the beast at grand final time tends to bring out the, er, best in the game's media. A couple of great yarns that have caught Set of Six's eye this week: "Des Hasler says the tough road to the finals will hold the Bulldogs in good stead"; and Bulldogs skipper Michael Ennis says the club's win over Melbourne earlier in the season will "count for nothing". Tomorrow - "It's going to be a big game," says the Storm's match-day coach driver.
5 GF relationship bust up exclusive
In other ripping news, Billy Slater has revealed his relationship with the club's physio is in tatters. Once close, the pair now barely make eye contact in the car park. "It's not an issue for the physio," said a stoic Slater. "I don't even see the physio any more. I just make sure I recover well and manage my own training. If I need to sit out a set here and there, I do that." No word from the physio about being to left to feel Slater's cold shoulder instead of his sore knee.
6 Money talks
It's probably just a negotiating tactic but Craig Bellamy has revealed he will leave the Storm if the club don't match his salary expectations when he renegotiates his contract. "People say it's not about the money," said Bellamy. "It might not be at the top of the list, but it's probably second. It's the same for players. I don't know how much longer I will go on, but I won't be going another 10 years, or even five. You want to do the best you can; that's how I am thinking. The next contract will be my last." Hello Craig, it's Owen here ...