It's dog eat dog as both sides prepare to select prop for league test in Townsville.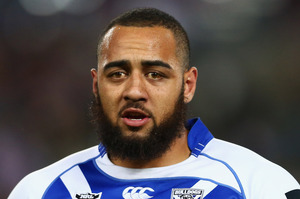 As league's international eligibility war becomes increasingly bloody, it appears giant Bulldogs prop Sam Kasiano could be named in both the Kiwis and Kangaroos squads on Monday.
NZRL general manager high performance Tony Kemp hopes to hear from Kasiano about his representative plans today. If he doesn't, he will proceed on the basis that the Dally M front-rower of the year has pledged his future to the Kiwis in writing and name him in the test squad to face the Kangaroos in Townsville on October 13.
However, Kemp expects Australia to do the same thing, forcing the Otahuhu born-and-bred 22-year-old to make a decision.
"If we don't hear by the end of the weekend the Aussies will name him on Monday," Kemp said. "We'll name him too. I'll find it very hard not to name him. This is just a joke. I hope it doesn't get to that."
Kemp likened the Queensland and NSW approach to Kiwi players to whitebaiting, with the powerful states trying to shepherd all of the best young players into their nets.
He also questioned the value of a mooted eligibility rule that would prevent players who moved to Australia after the age of 15 from playing State of Origin but didn't prevent them from representing Australia.
If enacted it would see Kasiano unable to play for Queensland next season but still potentially able to play for the Kangaroos in Townsville.
"What is that about - because he is the best front-rower? He's a Kiwi."
Kemp and the NZRL may have had their noses bloodied by Raiders forward Josh Papali'i's backflip on his intention to play for the Kiwis in order to pursue Queensland selection. However, that is the tip of the iceberg.
Eight players who had been in line for Junior Kiwis selection have been ruled ineligible after committing to Queensland and NSW at junior level.
"Some leadership needs to be shown by the NRL," Kemp said. "They have to be embarrassed by what is going on. Josh Papali'i was in the Junior Kiwis the last two years. He declared himself that 100 per cent he was playing for New Zealand. Now you've got to ask why did he do a backflip? It's purely based on money. It's not about the retention of Kiwi hearts any more."
Although New Zealanders make up around 30 per cent of NRL and NYC players, the NZRL was likely to see only a pittance from the recently agreed A$1 billion television deal. Kemp likened that to English settlers arriving in New Zealand. "It's like a ship coming into the harbour and saying 'we'll have all those nice things over there and here's a couple of muskets'. It's that all over again.
"The residency equation will stop some of it but it is not going to fix it. For me, the answer is looking at the pathways and then supporting the pathways. If it's a billion-dollar business, I dunno ... if we've got a 30 per cent stake in something, shouldn't we be rewarded for that? We are getting railroaded. It wouldn't cost them $600,000 to create pathways here.
"We are up against it big time with the $1 billion deal. If they get this wrong by not taking a whole of league outlook they could kill the smaller nations."
The Papali'i backflip (in his own words)
March 12
"I know now. I'm 100 per cent Kiwi."
April 8
"It's pretty hard when someone like Mal [Meninga] asks you to come across."
September 23
"I'm 50-50 at the moment."
September 24
"I've got the passion to play for Queensland, I always cried if they lost and it's always been a passion of mine to try to get there."