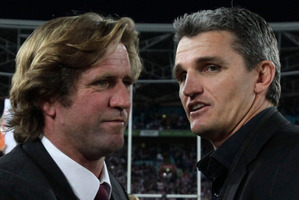 For the third time in six seasons, Des Hasler will face his old foe Craig Bellamy on rugby league's biggest stage.
But the circumstances could not be more different.
Hasler, who has swapped maroon for blue to go with the white this season, has the chance to become the first ever coach to win back-to-back competitions in charge of different clubs.
Having waged so many battles with Melbourne while in charge of Manly, Hasler will have another chance to deny his old mate Bellamy, this time in charge of Ben Barba and the Bulldogs.
The coaches famously split the 2007 and 2008 grand finals, in doing so developing a strong respect of each other's work.
Bellamy has worked wonders turning the Storm around from their crushing low of 2010, when stripped of two premierships and forced to play for no competition points.
That he's kept the core of his superstar squad together is impressive - but to turn the rest of the scraps and ring-ins into a premiership contender is his true masterpiece.
Hasler, too, has performed a few miracles.
He helped turn Barba into the game's most exciting player, eradicating mistakes from his game and relying on him as the inspiration for his team's title run, while also getting the best out of Josh Morris and unearthing Josh Reynolds.
Barba will undoubtedly feature heavily next Sunday, when the game's top two fullbacks light up ANZ Stadium.
Billy Slater has held the mantle as the game's top No.1 for half a decade, but Barba seems ready to snatch it from his grasp.
Having already won the Dally M medal this year, Barba's next goal is a premiership ring.
And with jinking runs, blistering tries, unfathomable defence, amazing support play and unfailing reliability under the high ball, he might just do it.
But Slater's ability in big games is well-known.
And he understands what it takes to win grand finals - even if his triumphs to date don't feature in the record books.
Melbourne insist the premierships they had stripped for salary cap breaches are legitimate in their minds, but surely they will be hell-bent on etching their name on the trophy once more.
The last time these two teams met, in round 16 in Mackay, Canterbury were in the midst of their 12-game winning streak - and the Storm was their biggest scalp.
They went on to claim the minor premiership and deserve favouritism in the big one after running up a 32-8 scoreline against a valiant South Sydney.