The final series of the Set of Six compiled by Steve Deane.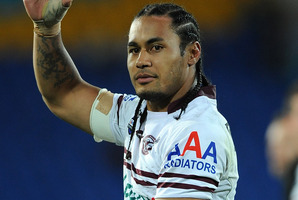 1 Games of the week
* Storm v Sea Eagles &
* SBulldogs v Rabbitohs
The Storm will be without prop Jason Ryles, who shredded a hamstring after returning early from the injury in a bid to be in contention for a grand final appearance. Steve Matai is back from suspension for Manly declaring he won't change as his team-mates love him for who he is. Geoff Toovey still thinks the Bulldogs are cheats (having done his apprenticeship under Des Hasler, you'd guess he'd know), and Russell Crowe won't be in town to watch his beloved Bunnies as he's too busy acting somewhere. Bring it on then.
2 Down with the Dogs
Sydney's partisan footy media appear to have chosen their finals darling - and it isn't the Bulldogs. First this week a television item early showed footage of the Bulldogs practising wrestling tactics (always a hot topic), while a newspaper story yesterday used television screen shots to prove the Dogs often encroached the 10 metres.
While entirely accurate, these stories appear to overlook the fairly significant fact that all teams in the NRL wrestle and they all cheat on the 10 if they can get away with it. The major differences between the Bulldogs and Rabbitohs appears to be that one has sucked for a long time and the other hasn't - and one is owned by Russell Crowe and the other isn't.
3 Blind men and the bluffer
While video referees Steve Clark and Paul Simpkins were sacked for the howler that did for the Cowboys last week, Kieran Foran appears to have survived as chairman of the Sea Eagle's comedy club. Foran's laughable position that he hadn't knocked on during the controversial play became so untenable he issued a correction worthy of the American presidential election. "In the heat of the moment, I didn't think I touched it and that is what I said after the game," Foran said. "But they've obviously reviewed it and it's turned out differently." Yes mate, you mis-spoke and all that. Touch judge Jeff Younis was the other casualty from the match, sacked for missing a strip that led to a Cowboys try.
4 Choc drops and rolls
Remember those stories a few years back about NRL players mixing prescriptions medicines with energy drinks to get high in a way that would escape the notice of the drugs testers? Turns out they were true. Sea Eagles star Anthony Watmough this week blamed an episode on the drug Stilnox when in camp for an Origin match for his five-year absence from the Blues team. Watmough was found wandering around the hotel pool at night dressed in only a towel and didn't know who or where he was.
"I'd just never had them before ... I was just young and a little bit reckless at that stage," Watmough admitted. "I had a couple and didn't know what they'd do to me. I went sleepwalking and the rest is history ... a five-year exile."
5 All a Twitter
The Herald footy department's Twitter account went mad with Warriors news yesterday. In the space of an hour we discovered the Junior Warriors had trashed a hotel room (true); Tim Sheens was about to be sacked by the Tigers (possibly) but would land the Warriors job (possibly not); Justin Morgan was flying to Auckland next week to interview for the Warriors job (not true - the bloke who was supposed to be interviewing him will be in Sydney) and that Izzy Folau was in Auckland (possibly true but he wasn't here signing a contract to join the Warriors).
6 Media frenzy
Those who believe Aussie sports stars enjoy better relations with the media than our Kiwi mob might want to factor in this offering from Sydney scribe Richard Hinds. "Another day, another of the NRL's media mixed zone feeding frenzies. This time, a chance to wander to the other side of the Rabbitohs-proof fence, prod microphones under the noses of six players and record their mind-numbingly anodyne responses to only slightly less intelligence-depleting questions. Not just any Rabbitohs, we are told, but 'high-profile' players. As if it was some sort of privilege that, on the eve of one of the most eagerly anticipated finals in the competition's recent history, the media were not being asked to interrogate an assistant coach's labrador." Ouch. But wait, there's more. "The star turn is Greg Inglis, who is swallowed whole by a ravenous pack of television heads, radio reporters and website types loosely fitting the description 'journalist'. 'I just like playing footy mate,' pretty much sums up the substance of Inglis' answers, and also how thrilled he seems to be there." Gold.