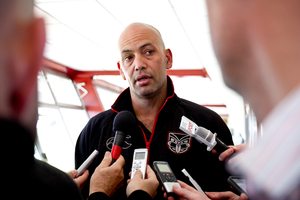 For those interested in what I would do if I were appointed head coach of the Warriors tomorrow, read on. Do not read if you belong to the tree-hugging society or don't believe in old-fashioned hard work.
Just as those teams eliminated from the playoffs suffer from the hangover of Mad Monday and finalise the itinerary for the end-of-season trip to exotic destinations, I would be calling a seven-day camp for all players - even those going to other clubs or retiring.
While their bodies are conditioned enough for physical tests I will ask them to endure mental fatigue such as they could never imagine.
Earlier this year I watched a DVD called SAS: The search for Warriors. It shows what soldiers wanting to join the Australian SAS need to do. Soldiers are broken down to reveal, not so much who they are but what they will do when fatigued.
As the DVDsays: "The men are subjected to constant and crushing physical exercise then torturous sleep deprivation. Steadily their bodies are broken down - next it's their minds. Only those made of the right stuff will make it."
The DVD is an insight to how far people will push themselves and it shows why others fail. The physical nature of the exercise is not the intriguing aspect that's about what fatigue does to the mind and how people respond. Some give up and say it's too hard; others fail because of personal limitations which prevent them reaching minimum SAS requirements.
The programme reveals the mental ability of some people and their unwillingness to push through the barrier that will always prevent them from 'making it'. It exposes the worth of those who are willing to try and that's all a coach is looking for in a player; someone who won't give up.
When a coach has players whom he trusts to keep working hard and not use the excuse of a bloody nose or broken fingernail to rest, he has something to work with.
He has no fear of that person throwing in the towel when it gets tough; it's all a leader wants in his team. So many times we saw the Warriors give up this season, which led stand-in coach Tony Iro to express his opinion of the soft underbelly.
He wasn't talking about the physical underbelly but their state of mind and how they capitulated under pressure on more than one occasion; we were all witness to what Tony alluded to. It's true that if we are physically incapable, it's impossible for the mind to function properly, but that's not a reason to not try.
Having the camp now, would give me the answer as to why the team failed this season. It separates those not willing to work hard, those who provide excuses for failing and those who blame something or someone else.
Now I know what I am dealing with and who I need to let go; now is the true beginning for "The Search for Warriors".