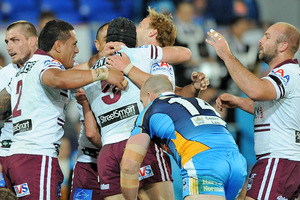 Manly claim the desire to create an NRL dynasty far outweighs their motivation to prove they can win without Des Hasler - the man who will plot their downfall on Friday night.
Hasler's falling out with the club he led to two premierships took on a new twist when the Canterbury side he defected to claimed the minor premiership and set up a blockbuster finals opener against the Sea Eagles at ANZ Stadium.
But Manly co-captain Jason King denied his team had anything to prove without Hasler, labelling the Sea Eagles' quest for the title as driven by personal ambition.
Few could doubt the Sea Eagles' claims to a dynasty should they become the first team to win back-to-back titles in a unified competition in 19 years - which would also be their third premiership in five years.
"There's a desire to be successful again - having such a tremendous season last year and having a taste of those types of experiences ...
I think that's the burning desire, to get those experiences and those emotions back," King said.
"That's where our motivation is, just to be successful as a group.
"... we're not dwelling on what we've achieved in the past, just focussing on what we have to do now."
Given Manly's form and history of success, the Bulldogs were quick to latch onto the underdog tag despite their minor premiership success.
"I think Manly deserve to be favourites," Bulldogs skipper Michael Ennis said.
"We finished where we did and that's a wonderful achievement for us as a club, but Manly have certainly got a wealth of experience across the board.
"They're reigning premiers and pretty much other than David Williams they've got their full roster back on the field.
"It's hard not to (rate Manly as the team to beat) ... they've got themselves into the top four, they've responded to everything that's been thrown at them."
Not that Ennis is dismissing his side's chances of toppling the Manly juggernaut and advancing straight to a preliminary final.
In Hasler, Ennis claimed the Bulldogs had finally found the key to unlocking their potential.
"We just needed some solid direction and some discipline and some structure and Des has brought all of that," Ennis said.
"The way that he's able to manage men is one of his real strengths."
The Bulldogs' rise hasn't surprised King - given he bore witness to Hasler's work in turning the Sea Eagles into one of the NRL's perennial contenders.
In eight seasons with Manly, the Sea Eagles only missed the finals once - his inaugural campaign in 2004 - a run which included three grand final appearances.
His impact at the Bulldogs has been even more immediate - this year's regular season triumph following two years when they missed the finals.
"He's a good coach, he put some good systems in place at Manly while he was there and he's obviously done the same thing there at the Bulldogs," King said.
"He's a good coach and he's got a good network of people around him."
- AAP