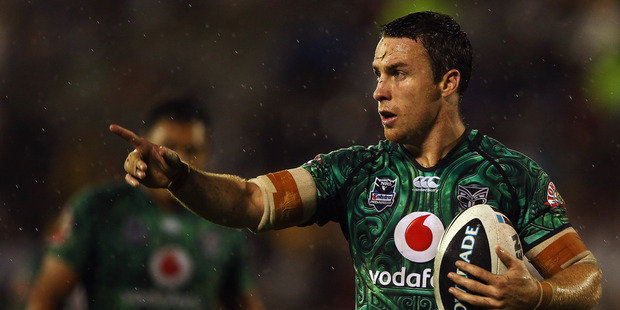 He will be remembered as one of the Warriors' best imports but James Maloney didn't make a particularly favourable first impression.
Maloney will play his 75th and final match against Canberra this afternoon, having notched 547 points (including 24 tries) in just three seasons. But the former Melbourne Storm player took a while to win over then-assistant coach and current head coach Tony Iro.
"I wasn't that impressed [with him] to be honest," says Iro. "He was cocky and confident but his attitude was far more impressive than his ability. We used to go through various field sessions - and obviously at this time, he was still finding his feet - but he looked like a reserve grader.
"Although he is confident on the outside, I'm not sure when he came to the club he actually considered himself a first grade half. But, to his credit, he has worked hard and become one of the dominant halves in the game."
Meanwhile, on that first day back in 2009, some of his team-mates mistook him for a new member of the coaching staff, rather than a playing recruit.
"We were in the gym doing weights and he walked in," says Jacob Lillyman. "We had never heard of him before and we looked at him and looked at his build and thought he must be a new trainer but it turned out he was one of the new signings."
However, it didn't take long for Maloney's effusive personality to be noticed.
"After a couple of days at training, that raspy, annoying voice was already starting to make its mark," laughs Lillyman. "He took all of two days to fit in and I remember one of the boys said, 'man, he can talk' on the first day. He is a character, one of a kind, and you won't come across another Jimmy Maloney in your life. But he has been great for the club and the team and, as much as we hate to admit it, we are going to miss him."
Maloney was the Warriors' Young Player of the Year in 2010, equalling a club record 28 points in a single game and scoring 188 in total. Last year, he went to another level, with 10 tries and 206 points in 27 games. There were crucial plays too - like the opening touchdown in the semifinal against the Tigers, or the two-try display in Newcastle. He does miss tackles but so did Darren Lockyer and so does Johnathan Thurston, Chris Sandow, Benji Marshall and Scott Prince - and it usually happens when he is exposed one on one.
"His biggest attribute is his confidence," says Lillyman. "I wouldn't say it was his work ethic because that is not high on the priority list. He is confident in himself and his ability.
"He knew what he could do and it was just a matter of getting the opportunity. In those first two years, he was probably one of the most consistent players in the game."
The Warriors don't have a great track record at finding replacements for departed stars. They struggled for years to fill the vacuum left by Stacey Jones - so much so that he was surprisingly brought back in 2009 - while others such as Kevin Campion and Clinton Toopi also left significant holes.
Thomas Leuluai has taken Maloney's spot on the roster and the Wigan player will bring solidity, experience and toughness. But they will need to unearth a new goalkicker (aside from perhaps Ivan Cleary, Maloney has been the best in the history of the club) and will miss his dynamic hole running (especially off Feleti Mateo), long kicking game and ever-improving playmaking ability.
"I've developed a lot since I've been here and the credit goes to those I have played with," says Maloney. "It's the forward pack going forward and the good players out wide that have made me look better and helped me get to where I am today. I've gone a long way in the right direction and will be sad to leave. But that's life - you have got to move on and keep moving forward."
Maloney will always have fond memories of Auckland, as both of his young children were born here.
He is not concerned about the current situation at the Roosters, where they languish near the bottom of the table.
"Hopefully they can only go one way next year," laughs Maloney. "It might be worse if they were right up the top."