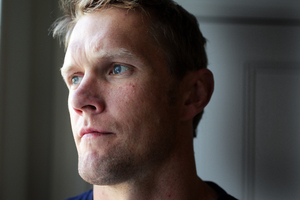 He couldn't really run but Micheal Luck could still have taken the money.
The Warriors didn't want their talismanic back rower to retire at the end of this season. The terms of a tabled contract extension were good, what you'd expect for a legend who had truly earned every previous cent, bled for it as often as not.
But deep down Luck knew a body that had just entered its 30th year couldn't take much more punishment. He could have taken the money then not run much - many a man would have - but that simply isn't his style.
Selflessness is the quality that shines through most strongly when you talk to those who've rubbed shoulders with Luck over the past seven seasons. He's put his body through hell, with his teammates at the forefront of his mind.
"Personally I'd rather play alongside someone like that than someone who is maybe more talented," captain Simon Mannering said.
"He is going to work his butt off every week. He is going to be out there to do his best, whether it is an ugly job, whatever he has to do to get that win for the team. He always puts the team first."
Physically, Luck is a bit of a throwback. These days many wingers carry more than his listed 98kg. Most opposing backrowers would have a good 10kg on him, but Luck never shirked a tackle.
Never. And he made more than 7000 of them.
"He's about the bravest bloke I've ever met," stand-in coach Tony Iro said. "Every club has got one player who does all the nasty stuff and never shirks a task, never complains about injuries.
"Every club has a good one - we've got an outstanding one.
"He has been everything to this club over the last six years. I've never seen a player have so much influence and effect on an entire club, not just the football staff. Everything good we have done he has had his finger prints all over it.
"It's devastating that he's leaving us. The true measure of the bloke is that any other player with what he's carrying injury-wise would not be playing.
"But he is still fronting up and doing his best for the club."
Luck's influence off the field has been just as crucial as his unwavering spirit on it.
Over the last two years he has roomed with understudy Elijah Taylor, schooling him in the need to be tough on the field and smart off it. Luck had been at pains to point out the good fortune modern players enjoyed to be well paid for doing something they love - and that careers were short. Never take it for granted and never get too big for your boots was the message.
"He will be the first person to call out someone who is acting too big for themselves," Taylor said. "You need players like that in your team to keep the lid on things. He is a great leader for us and always has been.
"It's going to be sad for our club, sad for fans and sad for our team. He is a character in our team and we are going to miss him dearly."
There will be no fairytale finish. With the season having unravelled, Luck is playing simply to try to avoid being part of a record-setting eight match losing streak. To him, that's plenty.
"Fairytales are for kids' books," he said.
"This is real life. This is what happens. Sometimes you have highs and sometimes you have lows. Rugby league reflects that better than anything."
Having battled debilitating wrist and shoulder injuries that have limited him to just five games this season, Luck could have been forgiven for simply walking away.
"There was a time this year I thought I might not get back," he admitted. "It would have been the easy option to sit there and say 'oh that will do'. But I'm glad I could try to help out the boys in the last couple of weeks in what has been a tough season."
After tomorrow's last hurrah Luck will depart for his native Townsville to take up an administration role with the Cowboys. He leaves a club that has tumbled from the highs of last year's grand final run to the nether regions of the NRL ladder.
"I hope whoever they put in charge next year they get the right man and they rebuild," he said. "I love this club to death. It has been great for me, given me so many opportunities. The raw talent is here, they reckon the cash is here. I suppose it is now about putting all that together and getting an organisation and culture that is consistently good at NRL level."
Without Luck, that task will be a whole lot harder.
"I'm gonna miss the guy," Manu Vatuvei said. "Hopefully we can get a win to send him off in the right way and the fans will come out and support him 'cause he's done a lot for this club. He's bled for the team. All we can do is give him a good send-off."
Micheal Luck
* Age: 30
* Position: Lock
* Games: 225
Townsville 76
Warriors 149
* Tries: 12
* Tackles: 7082
* Carries: 1783
* Errors: 66