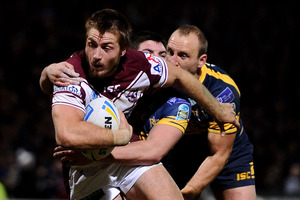 Once he is tracked down, Kieran Foran is full of sincere apologies. Our scheduled interview had a few false starts, as he struggled with the technology presented by a recently purchased i-phone.
"I've been running around with an old Nokia for a while," laughs Foran, "and still getting the hang of this one."
It is a surprise, as Foran has handled much greater challenges with aplomb in his swift rise up the ranks, whether it is a first grade debut at the age of 18, playing in grand finals, competing against the Kangaroos plus all of the off-field attention that goes with being a superstar in the goldfish bowl that is Sydney league.
Following last year's grand final win, his future - whether at Brookvale, Belmore, Mt Smart or AAMI Park - has already become one of stories of the season so far, with intense speculation around the path he will choose.
"It's been pretty tough, to be honest," says Foran. "It is a long process and it does play on your mind, especially with everyone wanting to talk about it."
He has tried to keep a low media profile and, two days out from NRL games, goes into lockdown mode, refusing to do any activity related to the negotiations. He says there is no time-frame for a decision, though he wants to get it finalised as soon as possible.
To that end, next Friday's Anzac test is a welcome distraction and couldn't come at a better time. Foran is a certainty for the No7 jersey, provided he came through last night's clash with the Titan's after a niggling hamstring injury.
He knows the match at Eden Park will be a massive occasion and is confident that the Kiwis can bounce back from their disappointing 2011, where a combination of factors conspired to produce a series of indifferent performances and comprehensive defeats.
"This team will have a hell of a lot of belief," says Foran. "There are a lot of Kiwis out there in great form for their clubs. It could be a very special team and it is time to make our mark."
He says last year needs to be pushed aside to make a fresh start, though the main lessons can't be forgotten: "I guess the lesson from last year was that all 17 of us need to be on our game from the start, otherwise we will get punished."
Foran was unsure when the Kiwis last won an Anzac test (it was 1998; he was seven) but knows the first home clash since then is a great opportunity for an historic victory, allied with the fact that the Kangaroos will be without Darren Lockyer for the first time since the late 1990s.
"You can't replace Lockyer - especially his leadership - but still their structures and combinations are something else. They have instinctive combination built up through Origin and of course [Cameron] Smith, [Billy] Slater and [Cooper] Cronk all play together at the Storm."
This year the Kiwis have instituted a senior leadership group, with Foran, Marshall, Simon Mannering, Adam Blair, Jason Nightingale and Adam Blair and the coaching staff getting together for a couple of short workshops in Sydneyto discuss ideas, strategies and tactics.
"Our time together is always really limited so it's been good to meet up beforehand and put some plans in place, says Foran.
Allegiance has become a hot topic lately, with a tug of war for New Zealanders resident in Australia but Foran was an easy win for the NZRL.
"When I had to go in and sign my NRL form around allegiance I didn't even think twice about it," says Foran. "I remember walking in there, seeing New Zealand and signing away. As a kid all I ever wanted to do was wear black and white. But you do understand how kids coming through get caught up in the Origin hype.
"It comes down to the individual and which jersey means the most to them. To me the NSW jersey didn't really mean anything because I never really wanted to wear it but the Kiwis jersey meant everything. I [also] knew that Kiwis don't play Origin and that was the end of it. Test football is as big as it gets as well."
Despite being only 1.80m and 89kg, Foran is renowned for his defence and admits it has always been a big part of his game, right back to his junior days at the Ellerslie Eagles.
"I always liked defending," says Foran, "and it has probably helped to get me into games and stay involved. You can't always get involved in the game on attack - sometimes the ball doesn't run your way - but there is always tackling to do and it is good to try and inspire your team mates with a big hit."
"[Former Manly coach Dessie] Hasler used to say to me sometimes - 'remember you are only 89 kilos, don't get carried away' - and I am trying to be a bit smarter about it and not use up too much energy on defence."
Foran's willpower and determination is legendary; with brother Liam, they often used to wake up at 5am, just to get a couple of hours practice in before school. At 15 he was told by a surgeon he would never play league again, after getting both his hands mashed by a 100kg squat bar. He was in plaster up to his elbows for nine months, and Liam had to brush his teeth for him - but dedication to rehabiliation and a supreme belief he could recover saw him come back.
Six years later he savoured NRL triumph on the last Sunday of the season: "It feels weird," says Foran, "sometimes you have to remind yourself that you have won a premiership because it is easy just to forget about it when the season starts. I love reflecting on it and keeping it in the back of the mind.
"Once you have won one, your hunger doesn't go away; you just get more hungry for that success again."