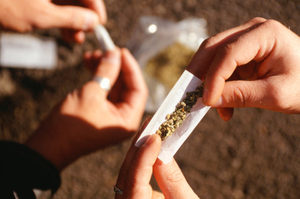 Security bosses say that a Laneway Festival guard was only joking when he offered to sell marijuana back to a group of revellers after confiscating it.
The Red Badge guard took the cannabis from the teenagers, who had started smoking the drug in the front row of the main stage at the Auckland festival last Monday. A witness described the teenagers as being intimidated by the guard, and took a picture of him and sent it to the company.
After an investigation, Red Badge chief executive Andy Gollings said it had been a light-hearted conversation.
He said the guard had spotted the patrons smoking the joint and handed it over voluntarily, and the guard took it to his team leader where it was disposed off.
"When he returned to his position the patrons offered him $5 to have it back. There was then a light hearted discussion between the parties, however no serious request for money was made by our staff member. It was the dregs of a marijuana joint, that was destroyed, and no serious request for money was made."
The witness, who asked not to be named, said: "He told the kids that if they gave him cash they could have their weed back. They were totally intimidated and had no cash, so he kept the weed."