Yeasayer are back for Laneway, but don't expect a repeat of an infamous earlier trip, says Paula Yeoman.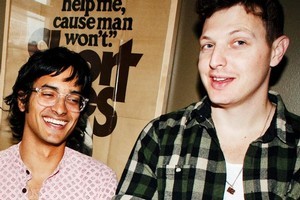 New Zealand doesn't often feature in stories of rock 'n' roll debauchery - the action normally happens anywhere but here.
But thanks to an up-and-coming band from New York, by the name of Yeasayer (pronounced Yay-sayer), Godzone has secured a spot in rock folklore. Here's how the story goes - as told by frontman Chris Keating.
"A waitress at a restaurant in Wellington offered us acid. It wasn't brought to my attention until after we got to Auckland, which I suppose means we were travelling all over the country with illicit substances. Anyway, we ended up in the Auckland Domain," recalls Keating.
He says the band spent "quite a bit of time" in the park at one with nature that day. "Actually, it felt like an eternity. I think I'm still there," he laughs.
The singer says he's not an advocate for drug-taking, but Yeasayer's lost day in the Domain then got re-told to Rolling Stone magazine. And it's now on record as being the inspiration for their second album, Odd Blood.
So, it is with some trepidation that the lads from Brooklyn return to our shores for the St Jerome's Laneway Festival this month.
Keating laughs at the suggestion their upcoming visit could inspire another album. He says he's more likely to "choke on a lamb chop" than he is to repeat the actions of his last trip Downunder.
Besides, they're here to rock Aotea Square with their own unique brand of psychedelic pop. Having played at major festivals from Leeds and Reading, to Coachella, Lollapalooza, and Fuji Rock, they know a thing or two about pleasing the crowd.
It is, however, the intimacy of Laneway, that Keating's most looking forward to.
"This is the kind of festival I would go to. I would go to check out new things and have fun and not be completely overwhelmed and freaked out by the crowds," he says.
Yeasayer play St Jerome's Laneway Festival in Aotea Square, Auckland, on January 31 and Wellington Town Hall, February 1.
- Herald On Sunday / View