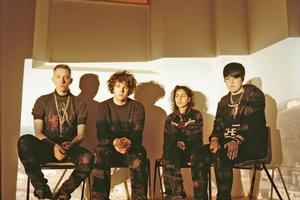 Romy Madley Croft is starting to get over her shyness. In the last six months it's been a case of having to since the quietly spoken Londoner's band The xx released their debut album, xx.
It just happened to be the most beautiful rock album of 2009 and made it on to most end-of-year best-of lists, including No 13 in TimeOut.
"I look up a little more now," she says. "Back in the day I found it very difficult to look up and looking out into the crowd was a very scary thing. But now that we're doing our own shows, because we had been doing a lot of support gigs, gives us a lot of confidence because people are there for us. People respond to the songs, and that definitely helps with my stage performance."
The other two members of the band - beat maker and producer Jamie Smith and bassist-vocalist Oliver Sim - are also shy sorts.
"I wouldn't say we were necessarily unconfident people, it was just that we were not really in-your-face people, we were reserved people. And it was difficult for us to get on the stage, and to talk about ourselves and talk about what we were doing.
Doing music has given us all a lot more confidence."
And now the 20-year-olds are doing chat shows, playing to thousands rather than hundreds of people at gigs, and make their first trip to New Zealand and Australia for the Laneway Festival this weekend.
"Because of music we're doing things I never thought we'd do," says Croft.
The xx make shy music in many ways yet the understated and hushed refinement of their post-punk-meets-dream rock sound leaves an impression. There are elements of the steely clarity of Faith and Seventeen Seconds-era Cure from the early 80s, the whimsy of This Mortal Coil, and a playfulness similar to dance rock band Hot Chip. But simplicity is the essence of the album.
"Yeah I like the simplicity of the songs we have and I don't want to over complicate things," agrees Croft.
The album moves seamlessly from the breathy vocal refrains of Shelter, where Croft reveals her inner most thoughts, to the pitter patter and lash of escalating beats on Infinity, and stand-out first single, Crystalised, is a minimal masterpiece.
The other element making The xx unique is the dual vocal role she shares with Sim, her best friend since school.
"I didn't even realise I could sing until around about when I was 15, and about that time Olive started singing a bit and we were really quite shy about it. We never wanted to sing in front of each other.
"So it took a while and the way that we do it now is the way we've always sung. We've never really tried to tune ourselves together, or harmonise, it's just the way it comes out."
Lowdown
Who: The xx
Where & when: Laneway Festival, Britomart, Auckland, February 1, Tyler Street Stage 4.15pm
Debut album: xx (2009)