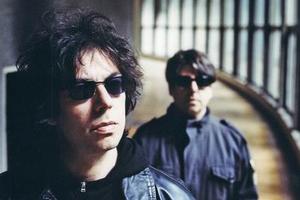 It's three in the morning in Newcastle where Ian McCulloch from Echo and the Bunnymen is, and TimeOut was supposed to be speaking to him.
But by the time the babbling frontman and mainstay of the Brit' post-punk band finally gets on the line, having just finished a steak, and more than few pints by the sounds, it's around 4am his time.
He played a show the night before but the reason he is still awake in the early hours of the morning is concealed within his nonsensical drivel about what sounds like a slag-off of "neanderthal-like" Newcastle locals.
But then, magically, he becomes more lucid with a booming, "Hello New Zealand. I can't wait to come down there and play. I like New Zealand. It's like a psychedelic Yorkshire. It's a small place, but with those big landscapes," he hoots with his husky and slightly wrecked voice.
During the course of the interview he veers off on tangents about everything from lewd comments about his voice and songs being perfect accompaniments to foreplay to slightly more sound relationship advice to do with wooing your missus ("Say something in Swedish"), to the top form of British jockey Lester Piggott.
He also has a brief tirade about annoying fans yelling out for the band to play 1984 classic, The Killing Moon.
So when Echo and the Bunnymen headline Auckland's inaugural Laneway Festival at Britomart on February 1 it might pay to shut it because, rest assured, they will play that song.
The idea behind the festival is to bring together "legendary bands" with today's best up-and-coming acts. Although McCulloch is initially coy about the Bunnymen's legendary status it's something you can tell he's chuffed about - and believes in.
This is, after all, the bloke who openly admits his band is the best in the world - and has been for around 30 years since forming in Liverpool in 1978.
"I don't know about legend. I prefer being called a heartthrob," he cackles. "Lester Piggott is a legend. But I'm far too tall to be a jockey, and far too intelligent to be Lester Piggott's horse. But no, seriously, you can't rest on your Laurel and Hardys can you? I see myself as the finest male voice. But legend? I don't know, because legends are people like Michaelangelo. They're geniuses, those people. So I may be a legend but I'm not quite a genius yet and I'm definitely not a role model," he laughs.
McCulloch - Mac for short - might sound like a prima donna, slightly deluded even, but he's a likeable chap. There's no sign of his notoriously scathing attitude towards journalists who don't know their Echo and the Bunnymen back catalogue well enough.
And somehow the 50-year-old always brings it back to the music; despite the bravado, McCulloch reckons he's just a shy Liverpool lad who's flattered to be invited to Laneway.
While the Bunnymen's latest - eleventh - studio album, The Fountain, sounds a little run of the mill, there is no denying 1980's debut, Crocodiles, and 1984's classic, Ocean Rain, give some clout to his claims.
With songs like Rescue, The Cutter, Seven Seas, and The Killing Moon - a dark yet moving song that had a continuous presence in the New Zealand top 20 singles charts throughout 1984 - they rivalled U2 and Simple Minds as one of the biggest bands of the 80s.
Their final album of the 80s - a self-titled release - wasn't bad either, and the song Lips Like Sugar was one of the band's biggest hits.
Still, the big U2-sized break never happened. Not that McCulloch cares because he doesn't believe the working man's band from Liverpool were cut out for stadium rock status. And besides, he's proud of the fact they wrote The Killing Moon, which is the band's best song and he's adamant it's the best song of all-time.
"I did know it back then, but it took time to figure out why it's the greatest song of all time. But I've finally worked out why. It's more than a song, it's about everything, and songs generally don't do that because they become too pretentious and you don't understand them. And The Killing Moon is not a moon at all, it's a f***** sun. It's a living sun and it's about the essence of everything in your life."
McCulloch has special praise for guitarist and co-founding member Will Sergeant, giving the example of the first dulcet and dissonant notes he plays on the song.
"It's like something out of the middle ages or something," he gushes. "I think he's the tightest, most lyrical, and genius guitar player. No one can touch him. It's like being in a band with Da Vinci or Rembrandt or someone and they're all on this bus playing the song."
Over the years there have been band tragedies (after he left the band drummer Pete de Freitas was killed in a motorbike accident in 1989); and break-ups and splits (with McCulloch leaving the band in 1988 for a successful solo career, especially with the excellent Candleland from 1989).
Yet he and Sergeant have always been the mainstays of the group, and even started the band Electrafixion in the 90s when the Bunnymen were on a break.
So why are they still music-making mates after more than 30 years?
"Because it's a lot better than making love to him," jokes McCulloch. "No, because both me and Will have managed to stay clear from the idea that being in a band is not about seeing your face on TV, or your name in lights, or on the cover of the NME. It's about expressing yourself."

Hip to be in square
The first Auckland Laneway Festival - like a boutique Big Day Out in the heart of the city - is on at Britomart on February 1.
The philosophy behind the festival, which started in Melbourne in 2004 and has spread to all the main cities in Australia and now to Auckland, is to bring legendary bands together with the world's best up-and-coming acts.
This year it will be headlined by Brit post-punk band Echo and the Bunnymen along with loopy art rockers Florence and the Machine, reunited Kiwi noisepop band the 3Ds, and the return of Chris Knox to the stage with his band the Nothing following his stroke last year.
The festival, which will become an annual event, takes its name from the lanes, streets and alleyways around Melbourne's Caledonian Lane where it originated.
Organisers of the Auckland event hope to create the same sort of atmosphere in Britomart Square.
Compared to the big crowds at most festivals Laneway's 4700 capacity will be an intimate affair - and there will be no pass-outs.
Also on the bill are Australian mavericks The Dirty Three, which features Warren Ellis of the Bad Seeds, highly touted London quartet The xx, rowdy blues rockers The Black Lips, American-Brazilian hip-hop duo N.A.S.A, eccentric American singer-songwriter Daniel Johnston, Portland new wavers Hockey and Australian indie singer-songwriter Sarah Blasko.
On the local front there's Cut Off Your Hands, Family Cactus, Dear Times Waste, The Naked and Famous, Street Chant, Surf City, and the Phoenix Foundtion.
* For more information and tickets ($99.75) go to lanewayfestival.co.nz.
Lowdown
Who: Echo and the Bunnymen
Formed: Liverpool, 1978 by singer Ian McCulloch, guitarist Will Sergeant and bass player Les Pattinson
Essential albums: Crocodiles (1980); Porcupine (1983); Ocean Rain (1984); Echo & the Bunnymen (1987)
Latest album: The Fountain, out now.