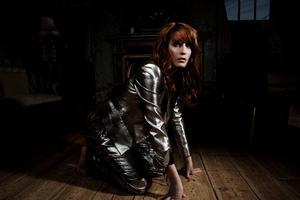 An Australian music festival that is based on the idea of teaming up "legendary" bands with the best new acts is coming to Auckland for the first time next year.
The day-long Laneway Festival will be held in Britomart Square on February 1, headlined by British post-punk band Echo and the Bunnymen, loopy art rockers Florence and the Machine, and noisy New Zealand pop rock band The 3Ds, who play for the first time in 12 years.
The rest of the line-up, with more acts to be announced in December, includes Australian mavericks The Dirty Three, which features Warren Ellis who plays with Nick Cave in Grinderman and the Bad Seeds; highly touted hot young things The XX; psychedelic blues rockers The Black Lips; hip-hop duo N.A.S.A; and local acts Cut Off Your Hands, Family Cactus and Dear Times Waste.
Also announced this week is the line-up for Rotorua's Raggamuffin Festival on January 23 at Rotorua International Stadium, which will be headlined by former Fugees frontman Wyclef Jean, as well as Shaggy; Julian Marley, the son of Bob; British reggae legends Steel Pulse; and dub and reggae's most famous rhythm section, Sly & Robbie.
Meanwhile, Splore, at Tapapakanga Regional Park from February 19-21, will be headlined by fleet-footed soul singer and producer Jamie Lidell, along with other international guests and locals including Sola Rosa, Minuit, Electric Wire Hustle, Pitch Black, King Kapisi and Nathan Haines.