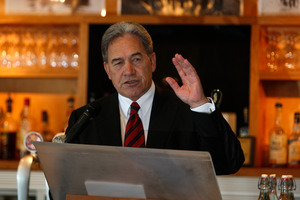 Listening to Winston Peters, you could be forgiven for thinking KiwiSaver was a seriously defective and widely reviled retirement savings vehicle.
How else to explain the New Zealand First leader's plan to create KiwiFund, a state-owned provider that would eliminate the "hordes of ticket-clipping fund managers" and reduce costs? While private KiwiSaver providers would still be allowed, Mr Peters is supremely confident that people would choose his "word-class model, unsurpassed by anything in the world". Effectively, therefore, he is proposing the nationalisation of KiwiSaver.
This idea might fly if there were, indeed, widespread dissatisfaction with the current KiwiSaver arrangements. The success of the scheme, not least in attracting 2.1 million members, suggests otherwise, however. So does the fact that a similar plan promoted by the Greens during the last election campaign gained absolutely no traction.
The Greens did not feel it necessary to attack the funds management industry as stridently as Mr Peters.
They also made it clear that they saw a public-option KiwiSaver fund as providing competition to the present providers, not a catalyst for nationalisation. Nonetheless, their proposal would add little given that access to state-owned KiwiSaver schemes is already available through Kiwibank.
There is also little prospect that it would introduce anything meaningful in the way of competition. The 20-plus KiwiSaver managers provide a wide array of investment options in terms of strategies and risk profiles. If they fail to provide acceptable returns - a conclusion that will be easier to reach under new disclosure rules - there is no shortage of options for investors. Nor is there any evidence KiwiSaver providers' fees are outlandishly high, whatever Mr Peters' claim that they are riding a "$22 billion gravy train".
If there is a problem in this competitive environment, it is that New Zealanders are slow to change service suppliers, whether electricity companies, banks or KiwiSaver. In terms of the latter, many are also hobbled by a lack of financial literacy. Thus, 465,000 KiwiSaver members have failed to choose a provider and remain in default funds. These funds must apply a conservative investment strategy, with only 15 to 25 per cent of members' funds in growth assets.
This makes sense for people aged, say, over 50, who cannot afford to see their savings eroded by a market crisis. But it makes no sense for the young and youngish, who will be in the scheme for many decades and can easily ride out short-term fluctuations in the knowledge that, in the long term, growth assets provide by far the best returns. The difference in outcome at retirement can be measured in tens of thousands of dollars, and it makes no sense for their money to remain in conservative funds.
The Capital Markets Development Taskforce, which has provided much of the ammunition for sweeping market reforms, said as much. So have several fund managers, which have lobbied for a riskier "life-stages" investment approach. Yet last week, the Government announced that default providers would retain the conservative investment approach. This, it said, was the "most appropriate choice when the Government is taking decisions about other people's private savings".
Yet it is also the Government's job to help as far as possible people who do not feel confident to make such decisions. It alluded to this when it noted that from now on, prospective default providers will have to demonstrate how they will offer investor education to encourage default members to choose a fund.
That is little more than a sop. The Government should have acted more decisively to fix one of the few aspects of KiwiSaver than can actually be said to be broken.