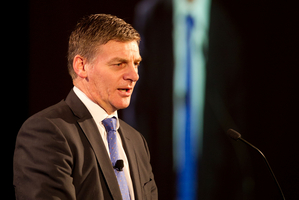 Mere coincidence? Or quite deliberate?
National reckons its tweaking of KiwiSaver will double the number of first-home buyers getting a subsidy to meet the deposit on a house to 10,000 a year. Funnily enough, 10,000 also happens to be the number of "affordable" homes Labour last November promised to build each year for the next 10 years.
Yesterday's announcement by the Prime Minister at National's annual conference is but the latest attempt by his party to reclaim the political initiative on what will be one of the most glaring issues in next year's election campaign.
Housing affordability is about the only policy area where Labour arguably has the upper hand.
If - as the saying goes - explaining is losing, then National is getting a trashing. The changes to KiwiSaver are not easy to explain in a sound-bite. They will cost the Government all of $16 million a year.
National thus gives the impression it is fiddling around the edges of the problem, whereas Labour's bold promise to earmark $1.5 billion to kick-start the building of 100,000 "affordable"homes is an example of the kind of "ambitious" policy-making National likes to think is its bailiwick.
That National was announcing the alterations some 15 months before the country goes to the polls says a lot about John Key's irritation at being trumped on any matter.
But then this was a conference which seemed fixated with planning for next year. National attributes its staggeringly high poll ratings for a party in its fifth year of government to it being on the majority side of public opinion, particularly on fundamental issues like education and law and order.
Helping first-home buyers might be the odd one out. But National is confident voters will come around to its less spectacular approach to solving the problem - principally boosting the amount of land available for housing developments - once they accept Labour's big plans will founder on the high cost of sections in Auckland alone.
As Bill English told conference delegates, there was no magic bullet. It was instead a case of doing lots of things which "all push in the right direction". He argued that the public was resilient enough to cope with reform. But that reform had to be consistent, considered and constant, though in small doses.
English's speech provided a vital clue as to how National will fight next year's election. It will go relentlessly on the offensive across all fronts and try to put its opponents constantly on the defensive. You can also bet you have not heard the last from National about help for first-home buyers.