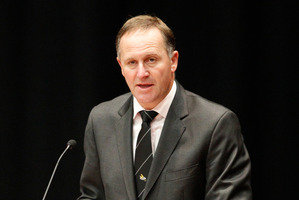 Prime Minister John Key has signalled changes to the student loans scheme in the Budget - though not to them being interest free.
"The Government remains committed to keep student loans interest free but we are also determined to reduce the cost of the overall loan scheme to taxpayers," he told a Business New Zealand audience in Wellington today.
When National took office the Government was effectively writing off 49c for every dollar that was lent. That was now down to 45c and he said the Government intended to get it down to 40c by chasing overseas borrowers and through faster repayment of loans once people had finished their study.
Mr Key said the health sector would get the biggest increase in spending in the May 24 Budget.
Education would also get a sizeable increase and more would be spent in social welfare in an effort to reduce beneficiary numbers.
Mr Key said there would be no changes to Working for Families or to Kiwisaver tax credits.
But he said there would be better targeting of financial assistance in some areas including through the tax system.
Mr Key said Bill English's fourth Budget would be "a very measured and responsible Budget."
He said there was enough headroom in the forecasts, yet to be finalised, to be sure they would reach their target of a surplus by in the 2014 - 15 year.
"While getting back to surplus by 2014 - 15 is challenge, it's an achievable target and it's achievable without any great dramas.
"We've shown over the last three years that we can run a very tight ship while retaining the trust and support of New Zealanders.
"So anyone predicting a slash and burn Budget is, for the fourth year in a row, sadly mistaken."
He said that change was necessary.
"If you don't want to change anything you end up in the position that Labour is in right now, arguing that the military still needs 10 brass bands around the country and that any reduction in this number would be disastrous."
He reiterated that for the second successive year, it would be a zero Budget -when new spending would be funded by new savings or revenue.
"A zero Budget is not a straitjacket. The Government will cotinue to spend money in priority areas."