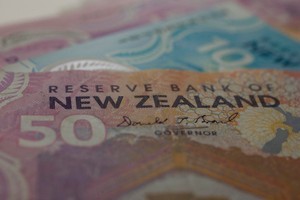 KiwiSaver turns four tomorrow and despite the Government's tinkering in the last Budget, the voluntary scheme remains a popular vehicle for people to save for their retirement.
The scheme has gone from zero four years ago to more than 1.7 million members who have amassed about $8 billion. The Government estimates that KiwiSaver will grow in value to around $25 billion by 2015 and to $60 billion in 10 years.
Looking ahead, bankers expect KiwiSaver funds to invest in partially state-owned assets if plans to partly privatise them go ahead.
While the scheme remains voluntary, it is only a matter of time before compulsion, along the lines of the Australian model, is up for discussion, they say.
Under changes to the system outlined in the May Budget, the Government cut the KiwiSaver tax credit, worth about $20 a week, and signalled that employee and employer contributions would increase from 2 per cent to 3 per cent from April 1, 2013.
Mark FitzGerald, head of wealth at Westpac, said it was too early to assess the impact of the Budget changes. He said signups to Westpac KiwiSaver were running at about 1600 a week just before the Budget, then went to 1700 just after the Budget, only to fall back to 1300 a week.
"I don't know whether that is a systemic issue or not, it's too early to tell, but the onus should be on the industry to continue to explain that this still remains a great vehicle for New Zealanders to save for their retirement," FitzGerald said in an interview.
"There have been a lot of changes that have been made to KiwiSaver, but fundamentally it is a great public/private sector partnership to help address one of the key imbalances that we have in the economy, and that is the lack of a savings culture."
While KiwiSaver has been an obvious boon for the investment industry, will ongoing political tinkering diminish the KiwiSaver brand?
"I think that is a valid concern but I think fundamentally, at the political level, there is real buy-in to the fact that we do have a savings imbalance and that KiwiSaver is a catalyst that will change that imbalance and create more of a savings and ownership society than we have had in the past," he said.
David Boyle, general manager funds management at OnePath, said it was too early to tell whether the Budget had had an impact.
"But it is pretty clear that KiwiSaver is still a pretty good option for those willing to save for their retirement."
He said one of the main issues facing KiwiSaver was the limited size of the New Zealand capital market.