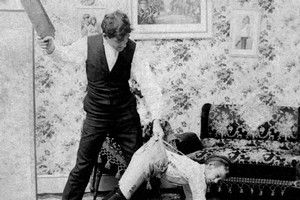 The Financial Markets Authority (FMA) handed niche KiwiSaver provider Superlife a major spanking this week.
Don't you, SPANK, ever sell KiwiSaver door-to-door or, SPANK, use any form of high pressure, coercive or misleading selling practices, or, SPANK, use unregistered KiwiSaver salespeople or, SPANK, fail to rigorously train and monitor your KiwiSaver employees or, SPANK, fail to ensure a KiwiSaver scheme applicant is aware of the nature and extent of the obligations they are incurring and has made the decision freely and on a properly informed basis, SPANK.
Let that be a warning to you.
And in the future you'd better comply with the Financial Advisers Act and Financial Service Providers (Registration and Dispute Resolution) Act and be aware of their effect on the requirements for distribution of their products.
You hear me?
FMA boss, Sean Hughes, wasn't so sure Superlife was listening.
"FMA is further concerned that SuperLife intends to continue distributing the SuperLife KiwiSaver Scheme without ensuring its representatives are Authorised Financial Advisers or QFE advisers as required by the Financial Advisers Act," Hughes said in the press release.
"FMA understands SuperLife is doing this on the basis that its employees are providing an 'information only' service."
In the case of Patrick Diack, who was earlier pinged by the FMA for selling SuperLife KiwiSaver to the crowds milling around outside several WINZ offices, it seems even information wasn't supplied.
According to the FMA, Diack harangued WINZ queuers "offering them money to join a KiwiSaver scheme and signing them up to scheme membership without providing them with the investment statement".
If you're not a bank, or have some form of captive salesforce, selling KiwiSaver is a tough business. Huljich demonstrated it could be done by incentivising just about anybody to sell its KiwiSaver scheme to the masses - a strategy made extremely difficult under the new financial adviser law.
But, as the Diack episode illustrated, having a loosely controlled salesforce can backfire on KiwiSaver providers.
Diack has been reported as saying he was providing a 'social service'. He might have a point - not many KiwiSaver providers bother to market to welfare recipients.
He may even have sold a few of Superlife's ethical KiwiSaver funds to the WINZ audience: a triple bottom-line performance - good for them, good for the planet, good for Superlife.