Whistleblower sparks two-year inquiry into NZ's largest daycare operation.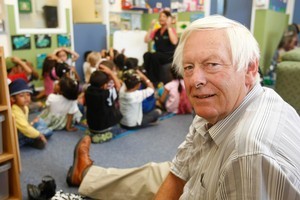 Childcare managers made false claims about where they worked that helped the country's largest daycare company boost its taxpayer funding to $60 million, documents show.
Serious Fraud Office investigators have found senior staff at Kidicorp were involved in "wrongly" claiming hours registered teachers worked.
And Ministry of Education documents state senior business managers falsely accounted for those hours so the company could claim more money from the public purse.
Kidicorp gets about $60 million in taxpayer money each year, used to help run more than 100 childcare centres. About 10,000 children attend those centres.
The company is denying any wrongdoing aside from a computer inputting error and the SFO is not prosecuting.
But education minister Anne Tolley said the issue was not finished and the ministry would pursue Kidicorp for money.
The ministry's computer system would soon be upgraded to record information better.
Details of the two-year inquiry were forced from the Ministry of Education through an Official Information Act request by the Herald on Sunday. Widespread deletions were made from the information released. However, details showed search warrants had been carried out on Kidicorp offices and staff had been interviewed by police.
Papers reveal the inquiry started with a whistleblower who claimed Kidicorp managers were making false computer entries to get more taxpayer funding for the company.
Ministry investigators found cases in which one business manager was listed as working at two centres on opposite sides of a city at the same time.
In other cases, ministry staff were told business managers listed themselves as working at daycare centres "when it was known they had not actually been at the centre". They stated: "Business managers, when confronted, admitted putting themselves on the records, for funding purposes, or to achieve a higher funding band".
Documents also say investigators were told of "pressures being put on centre managers and staff" to fudge timesheets and record all their working hours as "contact time" with children.
SFO boss Adam Feeley wrote in March: "We have identified numerous examples of wrongly claimed registered teacher hours specifically relating to business managers".
Feeley stated there was no credible evidence that this was orchestrated by Kidicorp's senior management, and there was not enough evidence for a prosecution.
Kidicorp chief executive Wayne Wright said he had been briefed by the ministry, and that briefing had not brought to light any instances of the company "over-claiming".
The company had hired PricewaterhouseCoopers to carry out an audit and it had identified one case of an inaccurate claim worth $16,000. Wright said the ministry's systems had not allowed it to accept payment "out of time" so the money had not yet been paid.
"Between 2005 and 2008 there was quite a lot of grey interpretation as to what was appropriate," he said. "As to whether that resulted in any over-payments, I don't think so."
FUN TIMES
When Michelle Miller started looking for a daycare for her girls, it was word of mouth that settled her mind on Tiny Tots.
The childcare centre in Auckland's Grey Lynn is one of more than 100 preschool centres run by Kidicorp.
Miller said friends had spoken highly of the way their children were cared for and taught at the centre.
The feedback gave her and husband John-Paul the confidence to place Isla, 3, and Rosie, 21 months, with the centre.
She was delighted every time the children surprised her with something they had learned at daycare. "What they learn there versus at home is hugely different.
"It's educational and structured."