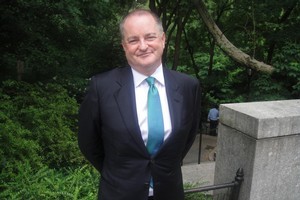 I hope the judge throws the book at Gavin Bennett on May 3. Bennett pleaded guilty to fraud charges this week. I know we have lots of fraudsters but this one really got on my wick.
He stole $103 million and his venal crimes helped bring down South Canterbury Finance.
We're paying for his sins. Taxpayers ultimately end up footing the bill for his first-class flights and his whores and his wining and dining.
We never hear of fraudsters who are siphoning funds to set up orphanages for kids in Somalia.
Oh no. This pathetic little small-town man was desperate to be a player. He yearned to live the life of a rapper on an MTV video and he made it happen for a short while by stealing from people who believed in him.
He lied so he could buy his women $1000 bras; he stole so he could fly first class when he should have been turning right like the rest of us; and he cheated so he could pick up the tab at a flash restaurant and look like the man.
What a sad little creep - as are all those fraudsters and shysters who have stolen lives off real people to create artificial ones of their own. The guy at the flash restaurant washing dishes has more dignity and class than Bennett could ever have. The dishwasher works for his living and adjusts his expenses accordingly, he doesn't try and live a fantasy lifestyle funded by people he's conned.
To a certain extent I understand where Bennett is coming from. I too came from a small town and I too had high aims and ambitions. I longed to be the lover of a man who had his own jet, and would buy me islands and would make me ache with a burning desire.
But it was not to be. I wasn't pretty or slim or calculating enough to be a rich man's tart, and I wasn't clever enough to manufacture the existence I dreamed of.
So I gave it up and settled for what I could get, and I'm happy.
Bennett, the sad prick, couldn't settle and so he lied and cheated and deceived. Theft because you're a sad, dumpy, middle-aged guy who can only bang hot girls by buying them is the worst possible excuse for theft.
Put him away.
Editor's note: News of Gavin Bennett's crimes broke in the Herald on Sunday last July, a long time before charges were laid.