Sending unarmed officers to confront the dregs of society is begging for trouble, says Kerre Woodham.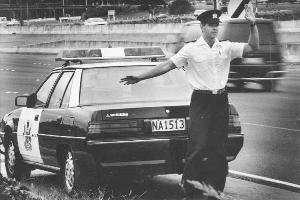 I know John Banks probably thinks that what he has joined together no man should tear asunder, but I've long been a supporter of splitting the police and the traffic departments.
The two were forced into a marriage of convenience in the 90s and, since then, motorists have had the perfect comeback when stopped for speeding. The cops are accused of being revenue gatherers and quite ready to persecute a man going lawfully about his business - albeit at 20km/h over the speed limit - but where are they when babies are being murdered and homes are being robbed?
I've had years of listening to these sorts of complaints on talkback, and I'm sure that the traffic duties are one of the reasons for some people losing respect for the boys and girls in blue.
So, when I read a report suggesting that Police Commissioner Howard Broad was looking at off-loading some of the routine roading chores to less qualified staffers, I was delighted. Surely this was the thin end of the wedge.
This must mean that the kuia of the Common Sense tribe, the Minister of Police, was going to separate the police and traffic departments.
But no. Despite the fact Judith Collins does indeed support some separation of duties, it was a classic case of wishful thinking, notwithstanding the headlines in the paper.
Howard Broad conceded there were some parts of the road policing role that the police could handle more efficiently, but he had no intention of separating road traffic police from frontline police.
Hardly a call for going back to the future. And, judging from the calls and emails I had, going back is something we cannot do.
We live in more violent times than we did when the black-and-whites ruled the roads and even back then, making traffic stops was dangerous. In 1977, traffic officer Barry Gibson died of head injuries after being assaulted by a motorist. Constable Glenn Mackibben, 25, was killed, the victim of a drive-by shooting, after he'd stopped a motorist for a driving infringement.
It's the officers making routine enquiries who are most at risk of being murdered - not the armed and prepared officers of the armed offenders squad. Having the powers of a sworn officer doesn't protect you from the kryptonite of the dregs of society.
So I guess we have to accept that sending virtual civilians out on to the streets to deal with the nutters, the disaffected and the antisocial pathological losers, even on the most routine of matters, is simply begging for trouble.