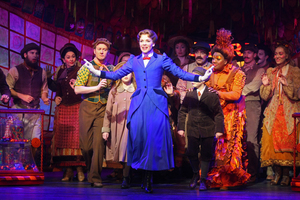 I saw the Australian production of Mary Poppins in Perth and I absolutely loved it.
In an age when children grow up with computer-generated special effects, it was wonderful to see so many little ones - and adults as well - enchanted by the magic of the theatre.
You know that the art of stagecraft is alive and well when you see the extraordinary sets and fabulous costumes and sleights of hand in Mary Poppins.
I went along to the opening night for the New Zealand run of the show on Thursday and it was even better than the performance I saw in Australia.
That was because of another important component of theatre - the audience.
Every live show will vary slightly because of the actors' performances and because of the reaction of the audience.
When you have a theatre filled with people who are appreciating every line, laughing at every joke and applauding every song, it generates a whole different energy compared to people who are sitting there passively, arms folded, almost daring the actors to entertain them.
The success of a show doesn't just depend on those who are on stage - it's about the audience as well.
On both those counts, the opening night of Mary Poppins was a triumph.