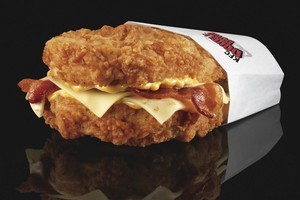 I have never eaten KFC. Not once. I don't know why - I have an anything-goes approach to food normally but KFC has just never appealed.
But if anything was going to get me to sink my fangs into their product, it would be the do-gooding campaigners out in force this week against KFC's latest product.
The Double Down - a bunless burger with bacon and cheese sandwiched between two slabs of deep-fried chicken - has been confirmed for New Zealand release, although exact details are being kept under wraps.
It's 1939 kilojoules of flavoursome fat and it's estimated it would take two hours of brisk walking to burn that off - more walking if you don't pass on the side orders.
So it's not an every day food.
But it was nonsense for Robyn Toomath, from Fight the Obesity Epidemic, to bang on about "needing to protect the vulnerable" and having to put in some "restraints" to help those who are particularly prone to obesity.
What sort of restraints is she talking about? Straitjackets to prevent people paying for and scarfing down one of these little devils?
And what's with protecting the vulnerable? The Double Down is not going to sneak in through the window of an innocent fatty's bedroom, pry open their jaws and slide down their gullet. It's not going to sneak up behind someone who would normally be eating hummus and vegetables, whack them over the head and enter them by stealth.
Refusing to acknowledge that people have free will is to infantalise and patronise them. Yes, obesity is a problem but blaming the food is not going to solve it. And if Toomath and her ilk had just shut up about this burger, I would never have known it existed. Now I'm tempted to wolf down one of these babies and let it do its worst.