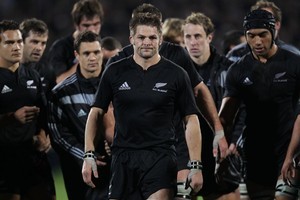 It's great that the All Blacks would like to honour the people of Canterbury during their World Cup campaign - understandable, too, given that so many of them have worn the red-and-black jersey in their careers.
But tampering with the silver fern doesn't seem the best way to go.
The idea of changing the fern from silver to red was just one of the options put to the All Black camp and had the support of politicians John Key and Phil Goff.
But the Silver Fern is iconic and, let's face it, there are many other parts of the All Black strip that could be used.
Red-and-black boots, socks or armbands, for instance.
Maybe even a special one-off jersey to be worn in the games that should have been played in Christchurch. The options are legion.
Few symbols resonate with me as a Kiwi but the silver fern is one of them and I'd rather it was left untouched.
I'm with Richie McCaw on this one - well, I'm with him on everything, but particularly this one.
He says changing the colour of the fern would be messing with tradition and that winning the World Cup would be tribute enough for the people of Canterbury.
Amen to that.