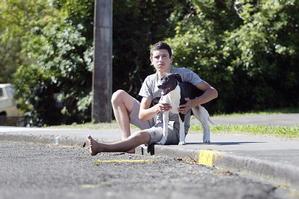 It wasn't until I was an adult that I got a dog. Our family were cat people so getting a dog was a big step. Dogs are far more needy than cats; more high maintenance.
I didn't know how we'd cope with a dog but my Irishman wanted one to replace the border collie of his childhood, so I agreed to give it a go.
With my acquiescence, I thought the next step would be to simply choose a pup. But oh no. The fact that we wanted a dog wasn't enough for Mike, the border collie breeder.
When I rang him, he put me through an interrogation far more thorough and comprehensive than any employer had ever done.
Were we working? If we were working, would anyone be home during the day? Did we have children? How many and how old? Did we travel often? If we travelled, did we have arrangements for the dog to be cared for? Did we own our own house? Was the section fenced? And so on and so forth.
Even before we could get our mitts on the little chap, Mike travelled up from Opunake and strode the boundaries of our estate to make sure we were dog-worthy people.
He told us gently but firmly that dogs need more than love. They need care, protection, discipline and a lifelong commitment. If we ever felt we couldn't cope with the dog, then he was to be returned to the farm.
We nodded, we agreed, we signed on the dotted line and then, and only then, did Toby the border collie enter our lives.
We couldn't have made a better decision. He's brought us more joy than I could ever imagine a pet could do. And the main reason he's fitted into our family so well is that we knew what we were getting into.
Because Mike had put us through the hoops, we understood the level of commitment we were undertaking.
So I worry about Bronson Stewart and his pup, Buck. Bronson had been unable to find the $2500 needed for Buck's operation on a badly broken leg and the vet told him the only alternative was to have Buck put down.
Bronson refused to accept that, so he snatched Buck from the vet's and took him home.
I accept that Bronson loves his dog. But I can't help thinking how selfish he's being.
He kept his badly injured dog at home for a week because neither he nor his dad knew anyone with a car. If he truly cared for his pup, surely he could have found a way to get him to a vet sooner?
When he couldn't come up with more than $5 a week to repay the vet, he took the dog home, regardless of how much pain Buck was in.
And, although kind people from around the country have donated money for Buck's operation, I hope there's some left over to help pay for the ongoing care Buck will undoubtedly need.
With a badly broken leg comes arthritis and other expensive conditions.
Bronson will need to find a job if he truly wants to do right by his dog.
It's a tough one. Often the very people who need the companionship and unconditional love of a dog are those who can least afford them - sickness beneficiaries and superannuitants, for example.
But they need to understand, as Mike the breeder made sure we did, that love isn't enough to justify owning a dog.