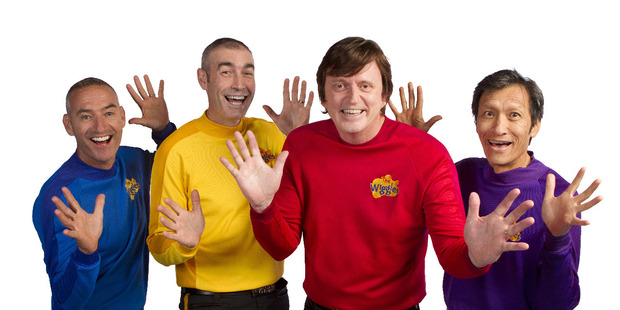 On Sunday afternoon, when Greg, Jeff and Murray Wiggle told an Auckland crowd of hyped-up toddlers and their weary parents at Vector Arena that they wouldn't be touring again, there were a few lumps in throats.
Maybe that was just my throat; maybe it was the remnants of the $7 stick of candy floss I had brought for my daughter that I ended up eating - and wearing. But it was a genuinely sad moment, because at the third Wiggles concert I have been to in my years as a mother, I realised I would really miss this group of dorky, musical gems.
I am one of those annoying people who continue playing Wiggles DVDs long after my kids have left the car. I sang every note at the concert, much to the horror of my six-year-old (who actually didn't want to be there, but took the ticket to deprive his sister of being able to take a friend, he fiendishly explained half way through). Not me though - I wanted to be there. I love the group's music; I'm a Wiggles groupie, if you will.
I simply can't take to the new Wiggles, even though with a child just turned one and on his way into Wiggles mania, I may have to. But, a girl Wiggle (the new yellow)? A muscley Wiggle (the new red)? A Wiggle who looks like he's just gone through puberty (purple)? Teamed up with the only remaining old Wiggle, Anthony in blue, who appears to be still going through a mid-life crisis judging by the number of handstands he insisted on performing?
Granted, the three leaving probably did have to be replaced. Jeff looks like he needs a Zimmer-frame; he reminded me very much of the Chinese pensioners that gather in parks around Auckland to do Tai Chi every morning, right down to his karate slippers. Greg looks better than he did when he left the group five or so years ago, but still, not overly-fresh. And Murray still likes riffing on his gee-tar but somehow finds ways to do it without moving more than a metre either side.
This muddle of styles and slow changing of the guard made this most recent Wiggles concert, for me, somewhat disappointing. There was too much chatter between band members, too many adult-pitched jokes (stuff about Deep Purple and Jeff's pace maker, which yes, are funny, but don't exactly keep the littlies glued to their seats) and not enough from the band's extensive - and hugely popular - back catalogue. Instead there was new material, and even a new plushie (honestly, is someone in the group a plushophile?) - Dmitri, the chuckling dog. An extended dialogue about Dmitri's origins in a Russian circus did nothing much for anyone.
The first Wiggles concert I saw in 2007 in Christchurch was the absolute business, I reckon - fast paced, full of musical favourites, chatter aimed solely at the kids and just long enough to keep everyone's attention. The next one in 2009 was full of acrobats and the music was not overly familiar to New Zealand audiences, so that was a bit of a drag. This one, trading on our love of these magnificent performers who - for me at least - have made the early childhood years just a little more bearable - gets a B+ from me.
Despite that, I'll be listening to their music for a few more years yet, I predict.