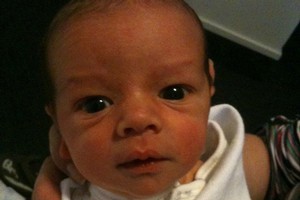 In all my fevered imaginings about this third, last birth, and all the pineapple I considered eating to bring on a natural labour, I never imagined I would join the ranks of women who have caesarean births. But in the event, after a natural birth gone wrong, I found myself rolled out on the hospital gurney like a slab of meat and sliced open.
It was the most brutal experience I have ever had - and my obstetrician is an absolute pro at the procedure.
It might have been because it was an emergency operation that the drama and tension of the situation was ratcheted up to fever pitch, but I was crying, shivering, and wondering aloud if the surgical staff were trying to kill me. I literally felt that someone was jumping up and down on my rib cage.
Neither Ali or I felt up to watching proceedings up close, but were hugely thrilled when the abdominal rummaging ended and baby was finally lifted away from the massacre site and handed to us, screaming and bloody.
We had been told the baby had stopped growing, had a heart that was under pressure, was starving; in short, was in real and significant danger.
All of which added an extra sweetness to the successful birth of a boy, weighing just 6lbs, skinny as anything from being malnourished in the womb but otherwise okay, on September 15th.
The upshot of everything is that once the 24-hour feeding, burping and changing routine kicks in, and your husband disappears back off to work and your other help dries up, we all face the same, relentless routine, no matter what our method of birth.
Added to that, when the child is your third, is the fact you have two other children to care for and engage with.
You'd think the experience of multiple previous newborns might help, but no. Breastfeeding is just as challenging to establish and the fogginess and exhaustion of the early days just as keen.
However, I did wonder at why a woman would choose caesarean over a natural birth (and I don't mean an emergency c-section, but one that is planned for and requested - something we are told is happening more and more often). It's not so much a moral judgment against the procedure, just amazement, really, that it's preferable.
After all, with a vaginal birth pain can be dialled back, even eradicated if that's the request, and you are not left with a big scar and basically housebound for weeks afterwards. You may have a sore undercarriage, but in a well-controlled birth it should generally be repairable.
With a c-section you get some pretty amazing drugs to control the post-operative pain but you've stilled been stretched and pulled from the pregnancy and then disturbed from major abdominal surgery. It's harder to feed your child early and comfortably. The list goes on!
We are, as women, so incredibly lucky to be alive and child-bearing in this modern age, in a clean, competent and technically advanced medical system. We are hugely fortunate that we have c-sections to fall back on and wonderful pain relief so that it's not too debilitating afterwards.
But if you ask me, as someone who has given birth a) naturally without pain relief, b) naturally with pain relief and a ventouse cup, and c) by c-section, I would say if you're lucky enough to be able, avoiding the surgeon's knife is definitely a good first step.