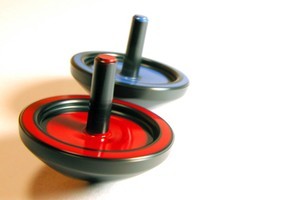 Like most parents of young children, I come to each stage of childhood like a slack-jawed yokel, not knowing the first thing of what to expect.
I have been blown away to recently discover that spinning tops have made a huge resurgence in the four- to 8-year-old male set.
Only nowadays they're not known as spinning tops any more, they're known as "Beyblades" and come accompanied by a typically incomprehensible Japanese anime series and cool merchandising names like Flame Saggitario and Storm Pegasus.
That's perhaps why, in the weekend at a "Beyblade birthday party", a 70-something-year-old grandparent mentioned to me that she had no idea what game the boys were playing - even though the principle of the game probably hasn't changed since the infant Jesus was spinning his wooden top on the streets of Nazareth.
Even my son, who was once presented with an actual old-fashioned spinning top, showed scant interest in the real thing, while we've practically had to pry his Beyblade off him with a crowbar as he's slept or bathed.
Even being hit hard on the head by an errant Beyblade hasn't put him off - a frequent mishap apparently as boys aim their Beyblades higher and spin them faster to destroy their mortal enemies ie. each other.
The ability of young boys to take in the details of the stories woven around these Japanese cultural icons such as Beyblades and Ben 10 is truly astounding.
As the editor of a staff magazine until recently, I was frequently offered Ben 10 DVDs and BeyBlades gift packs to give away. I confess to barely being able to understand the press releases sent with these products. The names of the various characters and their warring tribes simply did not compute, and the stories seemed overly complex. This despite the fact I lived in Japan and spoke the language frequently at one point in the dim, distant past.
I accept that for a huge subset of boys, anything from the manga world is hugely exciting and parents are fighting a losing battle to try and keep the tide of Japanese-inspired cultural product from taking its place in their brains.
Nevertheless, I'm sure the craze for Beyblades will eventually fade, with yet another obscure battle tale to take its place - something infinitely old in the guise of something sexy and new.
I wonder what the Japanese word for knuckle-bones is?