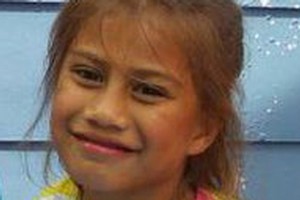 "I want you to write to me in 12 months and tell me how wonderful your life is," Judge John Clapham told Kerry Charles Ratana in September last year at his sentencing for disorderly behaviour.
Instead, Kerry Charles Ratana was back before the court less than a year later, pleading guilty to the manslaughter of his partner's five-year-old daughter, Sahara Jayde Baker, according to the Herald late last week.
Hard to believe this man killed a five-year-old in his own defence - or even accidentally - but there you have it.
On first blush, this story appears to apportion some blame for a wildly misguided faith in Ratana to turn his life around to the judge. Ratana was appearing in that instance on a charge of disorderly behaviour likely to cause violence and breaching a community work order, perhaps minor charges in the scheme of things.
But in considering the fact that that Ratana was actually doing community work - presumably as a result of some misdemeanour - and that violence in the man's relationship with his partner had come to the attention of authorities before, and that a child was in the middle of this precarious position, it seems nothing if not wildly optimistic that this man would completely abandon a pre-disposition to violence.
Although blame for this heinous crime must be placed squarely on the shoulders of Ratana himself, can we blame the judge at all for not considering the possible - if not probable - fate of the child in that situation?
Let's see: a step-father figure, already known to be violent (and violent to his partner) is sent home after shedding some tears in the dock and told to "turn his life around".
Putting him in jail for a short period or fining him may not have prevented the eventual outcome. But could the judge have perhaps saved the heart-warming relationship counselling from the bench in favour of warning the woman that she was not only putting herself in jeopardy, but also her two children?
And although it seems perhaps cruel to ask it, is it beyond the pale to ask why the mother took this man back? Why did she go out and leave her daughter in his care for the night (an action that too many times before has proven fatal to young children)?
Jane Drumm, executive director of Shine, New Zealand's largest domestic violence organisation, calls the case tragic and feels only sympathy for Sahara's mother.
Sahara's mum would not have wanted her child killed and so to that extent she does deserves sympathy, of course. Domestic violence is a tricky area where motivations aren't always clear and situations aren't always as easy to leave as they might seem to the person on the outside.
But until women are able to feel empowered to leave these toxic situations, we will continue hearing about young children killed in their homes.
No amount of money or community input will make the slightest bit of difference.
Jane Drumm says there was no doubt Sahara's mum was 'doing her best' for her relationship.
Perhaps so, but that doesn't always mean doing the very best for innocent children caught in the middle.