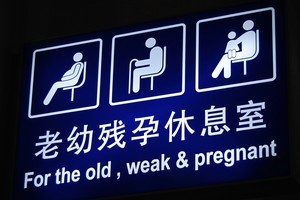 I will say this for pregnancy: I'm currently not unproductive for roughly a week each month, as Alasdair Thompson might suggest.

Unfortunately, however, I am moderately unproductive for about 100 per cent of the actual 10-month pregnancy.
I know - pregnant woman won't thank me for saying this. But between my swollen fingers being unable to type, my swollen feet being unable to support my ever-expanding girth, the general doziness of preggo-brain and my constant griping, it's no joy being me or anyone anywhere near me either.

I do nominally hold down a part-time job still. But quite honestly, by the time I've climbed the two sets of stairs, traversed the enormous work floor, and crawled around the floor plugging in my terminal, it's almost time for an afternoon nap.
I try to get as much done in as short as time as possible, because after a few hours it's all downhill and I find it hard to even work a simple email programme once dusk has started to fall.


As I often admit, pregnancy is a self-inflicted condition that no one needs feel too much sympathy for. But luckily for me, whose husband has long-since stopped listening - if he ever started - women, including random unknowns, do seem rather interested in pregnancy's various issues.
Carpal tunnel syndrome, acid reflux, cankles and infected sinuses all become conversation starters. And if those sound gross, the things these interested by-standers weigh in with are frequently worse.

But despite the (real or feigned) sympathy and empathy, the questions and delighted smiles, one thing neither women nor men do anymore, it seems, is give up a seat to a pregnant lady.

I often feel annoyed at men not budging an inch for the heavily pregnant but I also notice young and middle-aged women are loathe to give up their seats or spaces.
I've encountered this a lot recently - more, ironically, as I have become bigger. While waiting for the kids to come out of a movie with their father this weekend, I was reduced to sitting on the floor as no-one wanted to give up their comfy perch for a heavily-pregnant women with about 20 bags lumbering around looking breathless.

My bump seems to be frequently hitting against people who won't give me room (and I don't mean that I'm roaring through groups of people wielding it like a crowd-parter).
Recently I found myself having to carry large bags of groceries back home and although one young, unencumbered man walked practically alongside me the whole way, he never once offered to take anything from me.

I don't mean that people should fall over themselves for the pregnant, and quite honestly, it's probably more important for the elderly and infirm than the mere pregnant.
However, it has made me realise that just a small gesture of goodwill - and the ability to make physical movement just slightly easier for anyone who has it difficult - can really make someone's day.
Lending an ear is still important, of course - but lending a seat? Priceless!